Date/Time
Date(s) - 12/10/2021
7:30 pm - 9:00 pm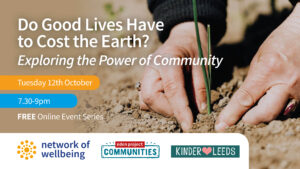 Join the Network of Wellbeing (NOW) and Eden Project Communities for the second event in the series, 'Do Good Lives Have to Cost the Earth?'. We're also excited to be joined by an additional co-host for this event: the Leeds Festival of Kindness, Compassion and Wellbeing.
During this webinar we explore how bringing communities together to tackle climate change can help to lower emissions while at the same time increasing wellbeing. We know that human beings are social creatures; while materialist culture would have us believe that we can meet our needs for identity and belonging through buying more stuff, in fact working together towards a shared purpose can give us a more meaningful connection and is ultimately better for the wellbeing of people and the planet.
This webinar celebrates community-based activities and campaigns which offer ways for re-defining our relationship with each other and with consumer culture.
We will hear from a panel of inspiring changemakers, including Nicola Round (Adfree Cities), Fiona Dear (Great Big Green Week) and Chris Hellawell (Edinburgh Tool Library).
This is the second event in a series of three events will take place on Tuesday evenings from 7.30-9pm on 28th September, 12th October and 26th October. You can choose to attend this event as a stand alone, or come to other events in the series.
Don't forget to book your place here!