If we want to change the world, it is important to have a positive vision for where we would like to go.
---
The same is true of creating change in our economic systems and structures. Yes, it is vitally important to fight against injustice and highlight the problems being faced. Yet it is also important to allow space for hope, optimism and positive alternatives. Imagine what the world could look like if economy wasn't placed above – but instead in service of – the wellbeing of people and planet.
In April, I went to the New Economy and Social Innovation Forum (NESI) together with my NOW colleague Joshua Malkin. NESI brought together around 500 people from across the world passionate about creating a new type of economy: a more caring, sustainable and kind economy.
We met many inspiring people at NESI, including Katherine Trebeck, Senior Economics Researcher at Oxfam. As Katherine points out, "the economy should be the means to the ends of wellbeing… in an ideal world, we'd have the economy set up in a way that delivered wellbeing for people, for communities, for planet, and of course for future generations".
Sharing new models and ideas
A variety of models and practical projects were shared, from initiatives such as:
There were also open space sessions shaped around new ways we can work together to create a positive shift in the economy. These were based on four key themes:
Rethinking money: The future of banking and finance
Learning and training for a new economy
Reshaping organisations for the common good
Globalization and localisation: Food, energy, trade and resilient communities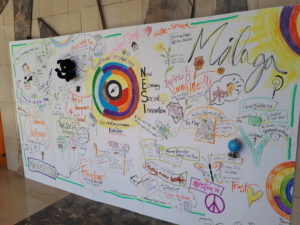 Joshua and I helped to facilitate a session on how happiness and wellbeing can form part of the new economy narrative, together with the Gross National Happiness (GNH) Centre. During this session we heard from the GNH Centre's Sonam Tsoki Tenzin about how happiness is not only a personal concept, but can be utilised at a societal level to create development with values. We also heard from Michael Weatherhead, from New Economics Foundation (nef) consulting, sharing some of the work nef has done on wellbeing.
During the open space discussions that followed, people spoke passionately on how to best define, measure and implement happiness and wellbeing in our own lives, communities and work contributing towards a new economic narrative. You can check out a Facebook Live video from this session to find out more.
We also helped to organise a small meditation session at the event, led by good friend Shamash Alidina from the Museum of Happiness. This allowed space for reflection and contemplation between all of the inspiring new ideas shared. You can also check out a Facebook Live Video of Shamash's guided meditation.
Get involved
To find out more about NESI visit http://neweconomyforum.org/
To find out more about wellbeing and the new economy, you can watch some of our previous video interviews: