This is a copy of NOW's latest monthly email newsletter. You can read the full newsletter online here, and sign up to receive it directly to your inbox each month.
---
What does 'success' mean to you?
That's a big question, especially since 'business as usual' was turned upside down and is being constantly reframed in response to Covid.
Yet it is increasingly clear that the mainstream model of economic growth and consumerism is not working: it is damaging the wellbeing of people and the planet.
We need to say no to this form of 'success' and instead make it possible for people to thrive within the planet's natural limits; to create sustainable wellbeing for all.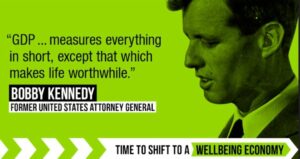 One action we can take to support this goal today is to sign this Wellbeing Economy petition started by Wellbeing Economics Brighton, and share it as far as possible, too. More than 30,000 have signed already. If that number reaches 100,000 by late September, there will be a debate on the topic in UK Parliament.
Meanwhile, summer is upon us. Our team has been taking some time off to rest – and we hope you are able to do so too. In this month's newsletter, we've given you links to our most recent webinar, if you missed it, and the dates of some exciting new ones we'll be hosting in the autumn. Plus, lots of other wellbeing news and events too! Read it here.
We hope to see you soon, and meanwhile, stay in touch with us on  social media (Twitter, Facebook page / group, Instagram and LinkedIn).
Warm wishes,
Flo and the Network of Wellbeing team