This autumn it is 10 years since the Network of Wellbeing (NOW) started, and we'd like to invite you to celebrate and build wellbeing together with us!
We'll be hosting a
special event series to explore the roots of the wider wellbeing movement, the impact made so far and all that still needs to be done. Book your tickets here >> 
---
At this event series we'll be exploring how we can create hope while acknowledging the challenges we face, and asking how can we see wellbeing as a route to systemic change, as well as ensuring it is a right of future generations? 
We'll be joined by a range of inspiring speakers, including NOW Patron and lifelong activist Satish Kumar, Future Generations Commissioner for Wales Sophie Howe and many more. Read on for details below, and book your spot to join us! >>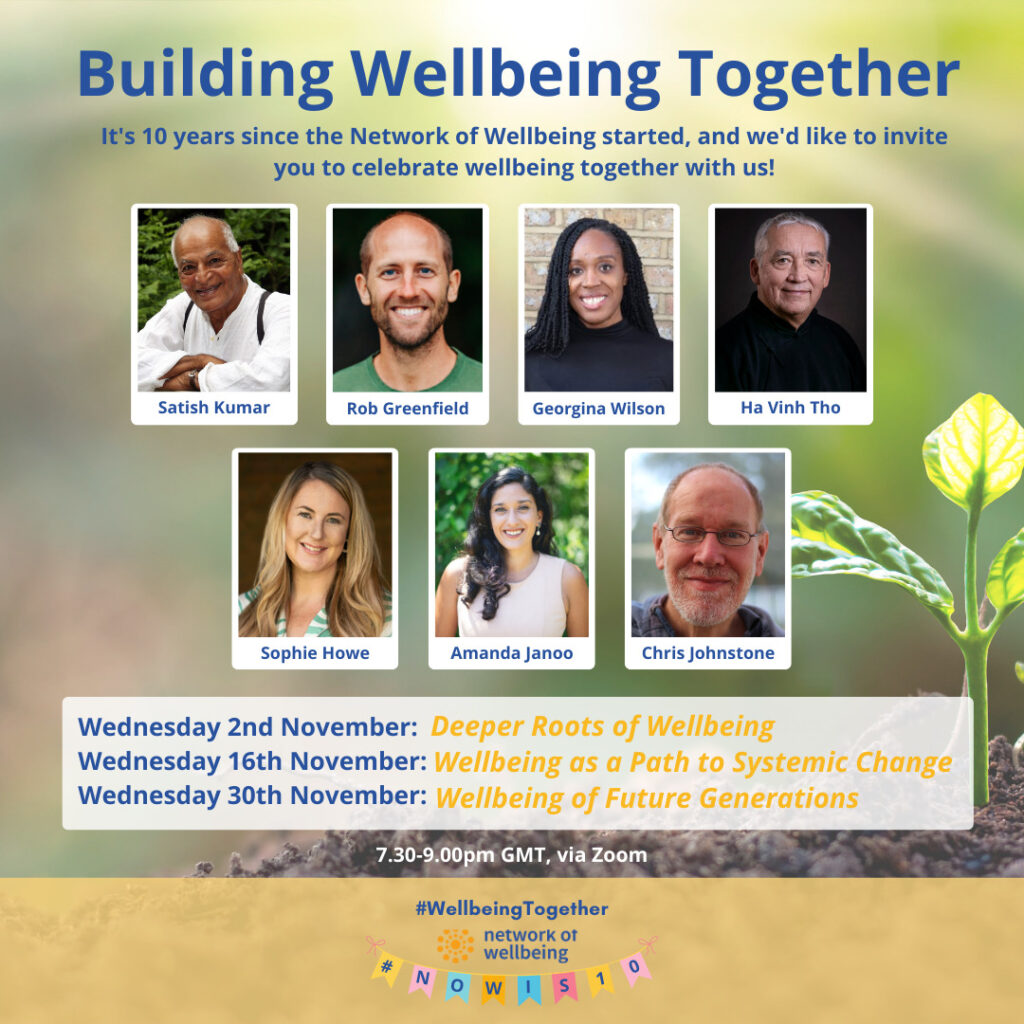 Building Wellbeing Together will be an online series of three events, as follows: 
Deeper Roots of Wellbeing – Weds 2nd November, 7.30-9pm GMT
At this event we will speak with lifelong activist and NOW Patron Satish Kumar to explore deeper understandings of wellbeing – as inclusive, collective, systemic and sustainable. We will hear from Satish about the importance of wellbeing on his personal path as a lifelong activist, and what inspired him to get involved with NOW 10 years ago.
We will also hear about some of NOW's current work, building a wider network, running the Share Shed – a library of things, and offering events at our venue Eden Rise. Plus, there will be a chance for you to connect with others actively working in the wellbeing movement. 
Wellbeing as a Path to Systemic Change – Weds 16th November, 7.30-9pm GMT
NOW's understanding of wellbeing is systemic, because wellbeing needs to be embedded in our economies, governmental policies and throughout wider society. It is also inclusive, because everyone deserves to have equal access to the things that support our wellbeing, collective, because we can't have wellbeing alone – our wellbeing depends upon our relationships and the communities in which we live and work, and sustainable, because human wellbeing relies upon the long-term health of the natural world.
During this event we will explore this wider understanding of wellbeing together with a panel of inspiring speakers – including Rob Greenfield (activist), Georgina Wilson (BUD Leaders) and Ha Vinh Tho (Eurasia Learning Institute for Happiness and Wellbeing). We will discuss the ways in which wellbeing goes beyond the personal, and can offer a path to systemic change. 
Wellbeing for Future Generations – Weds 30th November, 7.30-9pm GMT
NOW's vision is people and the planet thriving together. This event will highlight examples of organisations, projects and policies which are helping to support wellbeing over the longer term – focused not only on the wellbeing of people and the planet today, but also long into the future. This involves fundamental shifts in policy, economic practice and wider cultural practices. 
We will hear from a panel of pioneers in this area, including Sophie Howe (Future Generations Commissioner for Wales), Amanda Janoo (Wellbeing Economy Alliance, We-All) and Chris Johnstone (author and trainer). 
Join us there! 
You are welcome to join for the whole series or individual events. Full price and concession tickets are available. If the concession amount is still not possible for you, or you have any questions, please do feel free to get in touch via florence@networkofwellbeing.org and we would be happy to help. 
We really hope to welcome you to this event series in November, and continue building wellbeing together with you and the wider wellbeing movement!