Date/Time
Date(s) - 02/02/2021
7:30 pm - 9:00 pm
"Without optimism, there can be no activism." – Satish Kumar
Join us and a panel of inspiring speakers for an interactive, online evening in which we explore how we can maintain hope, wellbeing and resilience while working together towards a better world.
This event will begin with a hopeful meditation and talk with Satish Kumar, Editor Emeritus of Resurgence & Ecologist magazine & trustee for The Network of Wellbeing.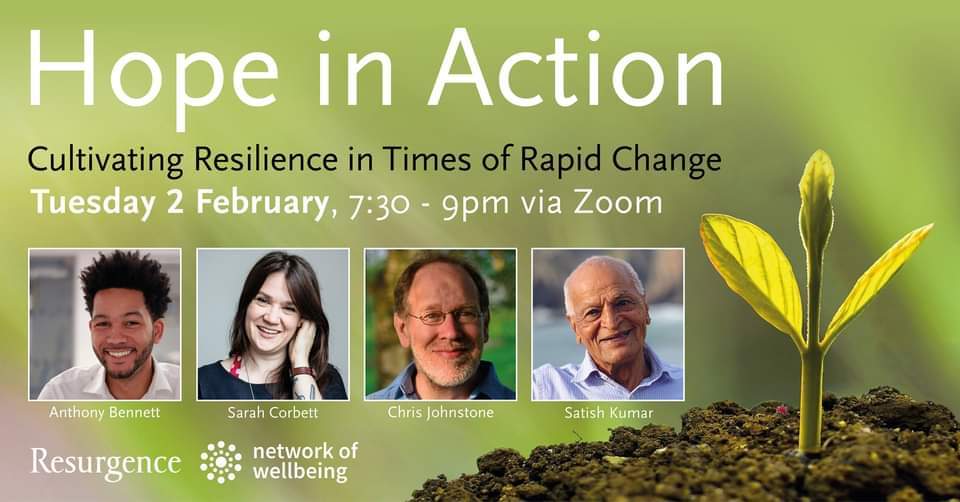 Chris Johnstone
has been involved in resilience training for over thirty years. His books include Seven Ways to Build Resilience and, co-authored with Joanna Macy, Active Hope.
Anthony Bennett: After surviving multiple viral infections and being given a 10% survival rate. After making a full recovery, Anthony went on to help raise millions of pounds for the hospital which saved his life and was also featured in the Independent on Sunday's Happy List.
Sarah Corbett: Award-winning activist, author and Ashoka Fellow. Corbett set up the global Craftivist Collective in 2009 after demand from people globally, providing craftivism (craft + activism) products and services for individuals, groups and organisations.
Tickets £8 or £4 concession including booking fee.
This event will raise money for The Resurgence Trust, an educational charity (no. 1120414) and The Network of Wellbeing, a registered charity (no. 295976)