Date/Time
Date(s) - 22/05/2023 - 26/05/2023
5:00 pm
Location
Eden Rise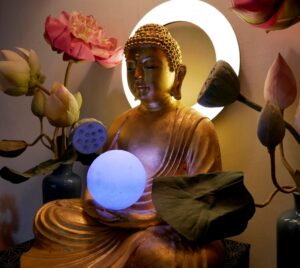 Dragon Bell Temple belongs to the Soto Zen Buddhist tradition. This retreat will follow a sesshin (intensive meditation retreat) type schedule, with the majority of our time spent centred on seated meditation, (zazen). It will be a retreat structure typical of the Order of Buddhist Contemplatives (OBC).
You can find out more about Dragon Bell and Soto Zen from our website here
There will be regular free time / rest periods built into the schedule, the structure will not be as demanding as some forms of zen retreats and it may still challenge you a little here and there too in good ways.
We will be preparing, cooking, and cleaning up after our meals, this will be working meditation for us.
Some short forms of ceremonial practice will be included in the days.
The retreat will be mostly silent with the exception of some social time towards the end. Rev. Willard Lee is leading the retreat and he may offer words of teaching at times. He probably doesn't know until he starts speaking!
It will only possible to join for the whole of a retreat.
Because this won't be an introductory instruction kind of retreat, in order to join us you at least need to be experienced with just sitting practice, (zazen / shikantaza). Preferably, you will also have spent residential time with a Soto zen sangha and be familiar with aspects of traditional forms of practice.
You must be aged 18 or over to attend.
Further details will be sent to you after booking.
The deadline for booking is 22nd April

Once booked, you will be on a confirmed list or a waiting list. Please let Willard know as soon as possible if you need to cancel your place.
The charity, Dragon Bell Temple, is covering the costs of renting Eden Rise and the food bill. There will be an alms bowl at the retreat if you wish to make a voluntary donation to support Dragon Bell.
To book
Contact Willard by phone or email:
Mob no. 07342 200 782
Email: dragonbelltemple@protonmail.com
If you have any questions about any of the above, anything at all about your participation, please ask Willard.
More details will be sent to you by email, after you have booked.