NOW recently marked International Day of Happiness with a series of blog posts and videos on happiness habits, a happy haiku competition, and a special Community Potluck in Totnes (Devon, UK). Here we report on the happy haiku competition. We received some really lovely happy haiku entries, and would like to offer huge thanks to all those who took the time to enter.
It has not been easy to choose the winners! In this post we announce details of the winners chosen, and we also share some of the many highlights from the haikus we received. Even though we aren't able to feature all entrants, we really appreciated every entry and really enjoyed reading through them all. Entries came in from across the world; people from Australia to Japan shared haikus on what makes them happy, and in the process helped to bring a smile to many faces!
Happiness is a just a 'hoppedehop' away!
Though most people agree that the pursuit of happiness is an essential part of life, happiness can mean different things to different people. We invited contributions of happy haikus on anything happiness related, ideally focusing on happiness habits. Entries encompassed a wonderful variety of topics including family, friends, creativity, nature, the seasons, and animals: We received haikus mentioning birds, grasshoppers, toads and even kangaroos!
For example, Tia from Australia shared the following: Cycling in the bush, kangaroo hoppedehop, sun peeking through trees. And The Colchester Happiness Project shared this beautiful entry: His kind, outstretched hand, the birds awaken and sing, children's eyes alight. And reminding us of the joys of spring, London-based Heather Mills shared the following: Sunshine and showers, daffodils tulips blossom, Spring is here again!
The simple joys in life
We had many wonderful entries reminding us that paying attention to the simple things in life can bring much happiness. Rachel Bentley summarised a joyful moment many of us can relate to with her haiku: Five minutes of peace, kettle bubbling to boil, tea biscuits and cake. And Newcomb Library highlighted the simple joy of a good book with their entry: Reading a good book, escape to another world, happiness is found!
Other entries highlighted the importance of sharing happy moments with friends and loved ones. Fionnuala McGowan in Dublin entered multiple haikus, including this one: Avocado toast, on a Saturday morning, with strong tea and friends. And B. Greenland from Totnes shared the following: A well spread table, of many smiling faces, friends of old and new.
These haikus remind us of the importance of both taking time for ourselves and the joy that can come from connecting and sharing with others.
The winning entries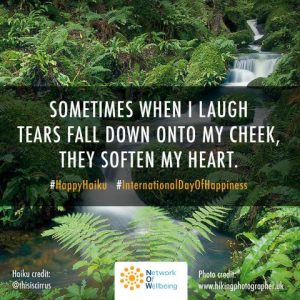 We chose winners representing topics which are central to happiness: laughter, gratitude and connecting with the natural world. The winners, in no particular order, are:
Fionnuala McGowan from Dublin, who entered some lovely haikus, including the following: Fresh air and nature, are available on tap; they make me happy. We really love this, as there is lots of evidence to show that connecting with the natural world is vital for our happiness levels, and appreciating the freely available beauty of the natural environment is great for our personal wellbeing.
We also received a selection of lovely entries from ‪@GlobalWeirding‪ on Twitter, and we chose the following as one of the winners: So much gratitude a celebration of life brings me happiness. The link between gratitude and happiness has been clearly shown through research, and the joy gratitude can bring is beautifully expressed in this haiku.
Last but not least, this happy haiku from Steph Rooney from Liverpool really emphasized the simple yet beautiful pleasure we can get from having a good laugh: Sometimes when I laugh, tears fall down onto my cheek, they soften my heart. 
Congratulations to the winners! The winners will be given their choice of the following prizes: Gretchen Ruben's book "Better than before", Sarah Van Gelden's book "Sustainable Happiness: live simply, live well, make a difference", a subscription to Positive News, or a t-shirt with their happiness haiku printed on to it.
Special mention for our younger entrants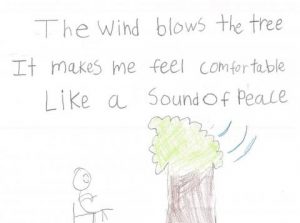 We would like to give a special mention to entrants from Ikego Elementary School in Zushi, Japan. Diane Hobler, a teacher at this school, was really enthusiastic about our happy haiku competition and encouraged other staff and students to get involved. As a result we received around 60 happy haiku entries from children aged 7 to 11. All of these entries are so wonderful to read, and so we hope to do a special follow up blog post sharing them. So, watch this space for more on this!
Thanks to all involved
Reading all of the happy haiku entries we received was really fantastic; we were touched, amused and very appreciative of the time and effort people had gone to! We hope everyone who entered enjoyed it too! Although we have not been able to mention or feature all entries, we looked through them all and every one of them was much appreciated. So, a huge thank you again to everyone who took the time to take part!