From spending time outdoors and  connecting with nature, to meeting neighbours and eating fresh delicious food: Getting involved in community food growing projects is an ideal way to contribute to your local area, get some exercise and learn something new!
---
It's about more than the veg
Biting into a tomato picked fresh off the vine is one of the best parts of growing your own food, and certainly one of the most iconic images many people may have of gardening. However, eating ultra-fresh and healthy fruit and vegetables is just one of the many benefits to growing your food.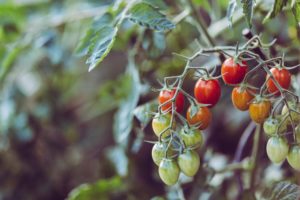 As the coordinator of a network of food growing projects across London, I've recently discovered the secret formula for any successful community garden: 50% gardening + 50% drinking tea together. Becoming a volunteer with a local growing project is not only about bringing home bags full of kale and rocket, it's also about meeting other people from your area and working together to care for a little patch of land in your community. It's an opportunity to connect with people you otherwise might not cross paths with and to develop a sense of ownership for your neighbourhood. Enjoying a cup of tea with other growers after a day of shovelling compost and planting seedlings can be just as rewarding as that first bite into a tomato.
Gardening on prescription
Many people also gain a health benefit from taking part in community gardening; whether that is reduced stress, better mobility or healthier eating. You can ask any gardener about how they feel better by being outside and working with nature. This positive impact of gardening on people's health and wellbeing is well supported by evidence, recently published by Sustain's Growing Health project, entitled 'The benefits of gardening and food growing for health and wellbeing'.
Last year a report by The King's Fund, an influential health think tank, called for the NHS "to make more of the diverse health benefits of gardening in support of their priorities." In London some GPs and healthcare professionals are 'prescribing' gardening to improve the mental and physical health outcomes for their patients and projects are being supported by the NHS or public health.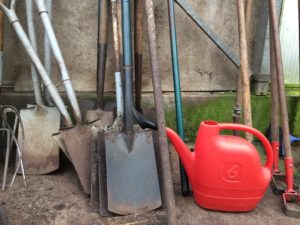 Sydenham Garden in SE London started life in the back of a GP surgery. Fifteen years on and now two sites are commissioned by Lewisham Clinical Commissioning Group (CCG) to provide gardening and arts and craft sessions for adults experiencing mental ill health and for people with early stage dementia. The charity's focus is rehabilitation and recovery, and the majority of participants report improvements in their physical health, confidence, social interactions and general wellbeing. Whilst gardening isn't yet a mainstream part of our health service, awareness and referrals are increasing so why not ask your GP. After all what other 'therapy' offers you tomatoes!
Ready to dig in?
You may be convinced of the benefits of gardening, but not sure where to start. If you're not sure what to plant first, our best advice is to always work backwards: what do you like to eat? Anything that comes to mind is the best thing to try growing as you'll sure to be excited when it's ready to harvest (assuming it's suitable for your climate).
While some are lucky enough to have an allotment or garden at home, many people don't have access to personal green space that can be used for growing, especially if you live in a city. Thankfully there are many other ways to start growing food that don't require a large amount of space or money. If you have a windowsill or balcony, we recommend growing a simply salad leaf mix or fresh herbs in a container. You can plant salad from seed in any size or type of container, or purchase an herb seedling to sit on your window ledge. These plants grow quickly, don't require lots of maintenance and are what we call 'cut and come again' as their leaves can be harvested in small batches many times. Tending plants of any shape or size, even a single basil in your kitchen, is an act of caring dedication and you'll quickly discover the joy of watching it grow.
If you're looking to get involved in a growing group, the Capital Growth map of gardens in London provides a simple way to find community groups that are looking for new volunteers. Capital Growth also hosts a number of open volunteer days throughout the season that are perfect for newcomers to visit gardens and get a taste for what's on. The Big Dig takes place once a year and is a great way to try it out for a day.
See you in the garden!
The above is a guest post by Maddie Guerlain from Sustain.