This is a guest post by The Wildlife Trusts about their annual challenge: 30 Days Wild.This post is also relevant to this year's World Environment Day on 5th June, which is based on the theme "I'm With Nature", encouraging people to connect with nature.
---
This June for the whole month, every day, everybody, everywhere, will be encouraged to enjoy nature on their doorstep, as well as the 'great outdoors' through the 30 Days Wild campaign. Inspiring 'Random Acts of Wildness', practical, fun and quirky ideas will connect people with the wild around them.
Last year thousands of people carried out 1.8 million Random Acts of Wildness during 30 Days Wild. That's 1.8 million precious moments that brought people closer to nature and enhanced their lives. The Wildlife Trusts aim to double that number this year – and we hope that the connections people make with the wild around them will ensure that it is better protected for the future too.
Nature is good for you
And it's official – a daily dose of nature, even in bite size chunks, is good for you.
The impact of taking part in 30 Days Wild has been tracked by academics at the University of Derby. Their study found that people who did something 'wild' each day for a month, felt happier, healthier and more connected to nature. From walking barefoot in the park to feeding garden birds, all sorts of activities proved positive for people – with added benefits for the natural world too.
Dr Miles Richardson, Director of Psychology, who led the study, said: "The impact of 30 Days Wild adds to the compelling argument for bringing nature into our everyday lives. Two months after taking part in 30 Days Wild, there was a 30 per cent increase in the number of people who reported their health as excellent.
"Last year's results also show people's happiness continued to improve after 30 Days Wild ended, which illustrates its sustained impact. This is important as it is happiness and connecting with nature that influence improvements in health. Our study also shows that those who benefitted most were younger adults and those who weren't 'nature lovers'."
This year 30 Days Wild is revelling in the glory of traditional meadows which bloom with wildflowers throughout June. 'Unimproved' pastures and meadows with their characteristic wealth of wild plants and animals are rare and fragmented – occupying just 5% of the area that they occupied in 1945. The Wildlife Trusts care for many – and they can be visited and enjoyed. 
Get involved in 30 Days Wild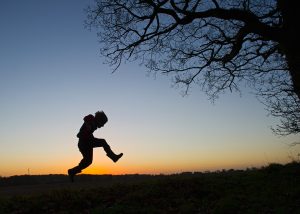 So why not get involved yourself? Meander along a river bank, dance in a downpour, meditate in a meadow, or simply sip a glass of wine as the sun goes down and appreciate your garden. To get involved in 30 Days Wild people can spend a few minutes, or a few hours each day enjoying nature – how they do it is up to them.
Apply for a free 30 Days Wild pack, find inspiring ideas online, and share the fun of #30DaysWild on Twitter, Instagram, and Facebook. Wildlife Trusts across the UK will be running wild events for all the family throughout June, so there's plenty of ways to go wild!