In these unprecedented times we need to find effective ways to support each other. Here at NOW, we've relaunched our Wellbeing Together webinar series, and this post shares a summary of a webinar on Community Action for Health and Wellbeing.
---
Covid-19 has stretched already-overstretched health and wellbeing services almost to breaking point. Yet in the darkest times, sometimes the seeds of new growth can sprout. All over the UK, community groups have jumped in to support those in need.
What lessons can we tale from this experience? How can we help communities to be more resilient in the face of crises? How can we build back better to ensure the goodness and strengths that are out there are harnessed for wellbeing? In our latest webinar we spoke with Simon Sherbersky (Torbay Community Development Trust), Jane Pightling (Evolutionary Connections) and Brendan Martin (Buurtzorg Britain and Ireland) on these questions and more.
In this video you can find a full recording of the webinar, and if you're pushed for time you can skip to the highlights as outlined below the recording:
Highlights from this webinar:
To open, we hear from Simon Sherbersky on a pioneering asset-based approach to community development.
At 10 minutes in, we hear from Jane Pightling on the opportunities and the challenges for the statutory sector when working with communities.
At 20 mins in, we hear from Brendan Martin on Buurtzorg – an innovative Dutch approach to health and wellbeing – and its application in the UK.
At 29 minutes, NOW's Roger Higman summarises some of the audience's questions for the speakers.
At just before 55 minutes, the speakers offer some take away messages and actions, and NOW's Flo Scialom offers details of some other discussions you can get involved in – including our next webinar, a Wellbeing Together Coffee Break and a Listening Space to further explore the topic of this webinar. Further details on all of these can be found below.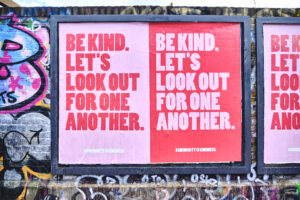 Join Us at the Next Wellbeing Together Webinar:
In these times it is vital we have effective ways to take care of our own mental health and wellbeing. As the saying goes, "you can't pour from an empty cup", so if you would like to take care of others or help the world become a more positive place, you also need to take care of yourself.
Our next webinar will be Compassion for now: Mindful Approaches to Mental Health and Wellbeing we will explore what tools we can gain from ancient and contemporary wisdom to help us deal with the challenges we face in these times.
We'll hear from a variety of people and organisations who can explore ways that we can take care of our wellbeing effectively:
Karen Atkinson (Mindfulness UK) on mindfulness and the importance of self compassion.
Chukumeka Maxwell (Director of Action to Prevent Suicide CIC) on the Five Ways to Wellbeing and our mental health.
Dr Paramabandh Groves (Breathing Space London) on mindfulness during times of stress and transformation.
Connect More Through Coffee Breaks and Listening Spaces:
Connecting with each other has become even more important in this uncertain and rapidly changing time. Therefore, we are opening up invitations to two new events:
Wellbeing Together Coffee Breaks: This is an informal opportunity to bring a cuppa and come together with others who are actively working on wellbeing, happiness and kindness. These events are held every other Monday at 11am, with the next one being on Monday 29th June. Please register here.
Listening Spaces, co-hosted by NOW and The Heart Movement: Join us in a listening space to share our personal stories and experiences of community building and human connection during these times of pandemic. A new future is written by our stories of resilience and the community actions we participate in, no matter how big or small. These events will be hosted on alternating Tuesday evenings to our webinars, with the next one being on Tuesday 30th June at 7.30pm. This will be an open and welcoming space, so it doesn't matter if you've been to many listening spaces or if this will be your first one – either way you'll be supported to feel right at home. Please register here.
Thank You and Stay in Touch!
In these unprecedented times we all need to find effective ways to support each other and build wellbeing together. Please do stay in touch with us in between events, on social media and via our newsletter.