The Upstream team spent the summer in the feisty Somerset town of Frome (population approx. 25,000) where they looked at the barriers, possibilities and potential for moving the town's economy from one that had been focused on blind growth to one centered on wellbeing for all.
---
Wellbeing in the Independent State of Frome
On one night in 2011, a group of disgruntled Frome residents gathered in The Griffin Pub to talk politics. By the time they left, a revolution had begun. The movement, which they called Flat Pack Democracy (after the IKEA build-it-yourself flat packs) hinged on the fact they were running together not on platforms about what they believed in, but instead, on how they would work together to serve the local community. The first time they ran they won 10 out of the 17 Town Council seats and the mayorship. The second time they ran in 2015, they won them all. A complete revolution.
Now it's difficult to determine cause and effect, but since the Independents for Frome, as they are known, have taken over local politics, there have been dramatic changes. Community meetings are much better attended and more likely to be potluck-style instead of dry formal events. The community has gained a Share Shop, which is a library of things to reduce consumption and waste, a Community Fridge to redirect excess food from dumpsters, and a resilience officer, whose sole task is to care for the social and ecological resilience of their town.
The Share Shop in Frome
One of the more recent initiatives led by the Independent council is the introduction of a Wellbeing Forum, which, according to the Frome Town Council's website, is a 'quarterly meeting to act as a 'think tank' for Frome's wellbeing.' Council Member Alison Barclay and Community Projects Officer Kate Hellard have been convening the Forum since May of this year. Participants, who are mostly made up of community volunteers and leaders of local organizations, find the meetings helpful in a number of ways. Networking, sharing out the work they are already doing, and learning about wellbeing initiatives that might interest their community groups are just some of the benefits of the wellbeing forum.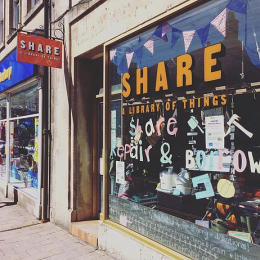 Barriers to Wellbeing
The impact of these new initiatives, however, has not been exclusively positive. In an Upstream Interview, Bob Ashford, the Chair of the Board of Directors for Fair Frome, an organisation tasked to address wealth inequality in Frome, described how the recent innovations and the subsequent media attention has brought many new people to Frome. This has contributed to rising house prices and increased the divide between "the haves and the have-nots," as he put it.
Part of the nature of this divide comes from the fact that Frome's lower and middle income families are struggling from the lingering impacts of globalisation and neoliberalism. Frome's community organization Home in Frome chronicled the working history of Frome in a recent book called Working Memories. In an Upstream interview, the editor of the book, John Payne, spoke about Frome's factories moving overseas in 1980's and the emotional and social impact that the loss of the industries had on community cohesion. To make matters worse, as Bob Ashford pointed out, the national government has also been slashing away at the safety net for working people and taking more and more power and resources away from local and regional governments .
Wellbeing for All
Frome is a microcosm of global issues. This story is both unique and deeply relatable. It gives us glimpse into the causes and effects of everything from Brexit to Trump's rise to power in the USA. If Frome leaders are serious about focusing on wellbeing as a town, then it needs to be wellbeing for all.
But how can Frome ensure that Wellbeing is optimized for everyone? Bob Ashford recommends the local Frome leaders ask themselves how all decisions and new initiatives will affect inequality and the divides in Frome. Dr. Jean Boulton, a Frome Town Councillor, advocates using a complexity approach to economic interventions in order to intervene systemically and to stay alert to ever changing contexts. And Annabelle Macfadyen, a co-initiator of Home in Frome, asks for support for community-driven initiatives to heal social and economic divides. She also encourages local residents to reach out across differences to those they might not otherwise get to know.
To hear this story from the voices of Frome residents themselves, check out the Upstream series, Welcome to Frome.