On Thursday 8th March 2018 a group of us from NOW's practitioner network across the UK converged on Birmingham to see first-hand the innovative Wellbeing Programme that Birmingham City Council has developed under the leadership of Karen Creavin and her team.
---
In this post I share some highlights and key lessons learned from this inspiring, moving day.
1. Getting active can be so much fun!
As part of Birmingham's Active Parks initiative, we joined a weekly, free tai chi and qi gong session in Cotteridge Park. Despite the cold weather and minor flurries of snow, this session was warm, relaxed, friendly and fun, which may go some way to explaining its success!
We also got to ride Big Birmingham Bikes and even have a go on a smoothie bike. We then spoke to people who have received free bikes from the Council, and heard what a difference this has made in their lives.
Plus, as part of an Active Streets event we played tennis with children aged 4-14. Overall, it was great to see these types of activities bring together the community.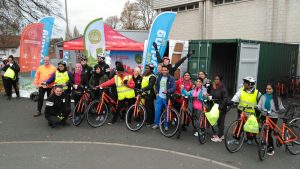 2. Working in community, partnerships and accessible ways to get involved are key
The level of poverty in Birmingham – with a population of 1.1 million and 480,000 people living in the UK's 10% most deprived households – shows the size of challenge and importance of the Wellbeing Programme.
Cotteridge park (where we experienced the free tai chi and chi kung sessions mentioned above), borders both an affluent area and one with significant levels of deprivation, and so Birmingham's Wellbeing Services have been keen to work with the dynamic Friends of Park group which has been running for over 20 years. Working in partnership with existing groups and projects has proven very important in Birmingham City Council's approach.
Another lesson learned in Birmingham is the importance and value of providing free and accessible activities. It is inspiring to see how the offer of free activities has created good will and 'contracts' with citizens. So, for example, those receiving free training and free bikes often went on to volunteer and support the Wellbeing Programmes.
3. The importance of meeting people where they are at
On the tour of Birmingham's Wellbeing Services it really became clear the value of meeting people where they are at to improve wellbeing.
For example, initially Birmingham's programme were framed as 'sport for the sporty' then they moved more broadly to focusing on 'physical activity', to now focusing much more on 'community activity'. Through experience they realised that once people connect with others in their community they often begin to engage in physical activity anyway. They also shared the idea of a 'perpetual beginners' class, where people can always drop in and don't feel intimidated to join.
In-line with their wider community focus, the Wellbeing Programme in Birmingham now encompass a variety of other activities beyond physical activity. For example, talking art sessions where people can use art to help open up and connect with others.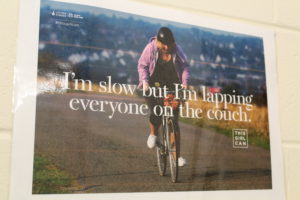 4. The power of personal stories
During the Tour we met Naseem Akhtar, project manager of Saheli Hub – a group which supports women to engage in more healthy lifestyles. Several of us were moved to tears as we heard the stories, experiences and success of Saheli (which means bridesmaid/ best friend for life in Hindi). You can learn more on their website: http://saheli.co.uk/.
5. Food helps to bring people together
A delicious free lunch made from reclaimed food from Food Share, thanks to the amazing women of the Small Heath Wellbeing Centre. This lunch was a lovely way to connect further with each other and discuss lessons learned from the day.
Find out more
In order to ensure the award winning work of Birmingham's Wellbeing Services continues into the future the Council has created a cooperative – the Active Wellbeing Society – which Karen Creavin now leads as it takes over the work previous carried out by Birmingham's Wellbeing Services. This will enable even more empowering, flexible ways of working in the future. Karen and her team will continue to host 'open days' on Thursdays, so if anyone would like to join one in the future please get in touch with us at NOW and we'll link you up.