It's that time of year again; the Festive season is now upon us. Some people truly love this time of year, while others can find it stressful. Wherever you fall on this spectrum, we'd like to share some suggestions with you about how to make this festive season more meaningful and sustainable.
---
Connecting is what it's all about
It's easy to find ourselves getting frenetic at this time of the year. Our shopping and 'to-do' lists can get long, and we may forget what we're doing it all for: most of us simply want to have a great time with those who mean the most to us. It can be helpful to focus on this and all of the simplicity it can entail. Make time to simply be with those you care about; be mindful about the opportunity to be together, and try to invest in deep conversations.
Get creative with your gifts – it's good for the pocket, for your wellbeing and for the planet
Rather than spending money on lots of new things, how about using your own skills and resources to create more soulful gifts? Make a drawing, bake a cake or compose a song. This is a lovely way to show someone you care, and getting creative is great for your wellbeing too. If you aren't feeling that creative, there are plenty of other more sustainable and meaningful gift options. Rather than loads of gifts, how about agreeing to have a secret Santa? Or you could give someone an experience rather than new stuff, which can prove so much more valuable in the long run. Or if you'd like to buy gifts, try to purchase local or second hand, and make sure it is something your loved one will really want. You can find some further inspiration here and here.
If it needs wrapping, go for zero waste options
Of course for many people, wrapping (and unwrapping) a gift is an essential part of the experience. If that's the case, rather than spending money on traditional wrapping paper, which generates a crazy amount of waste, have a go at using old newspapers, magazines and natural elements to make it a very personalised gift. You can see some great suggestions here.
Give to others
As well as giving gifts, we can also give our time – both to our loved ones and also in volunteering or supporting causes we care about. You could try volunteering at the local homeless shelter over the holidays to help out people struggling at this time of year, or you could give a donation to a project you feel passionately about. If you are unable to spare the time or money, you can always give a smile, a hug or a caring word to someone in need. Giving to others is good for our wellbeing, and it's important to remember that it needn't cost lots of money to be generous and make others happy.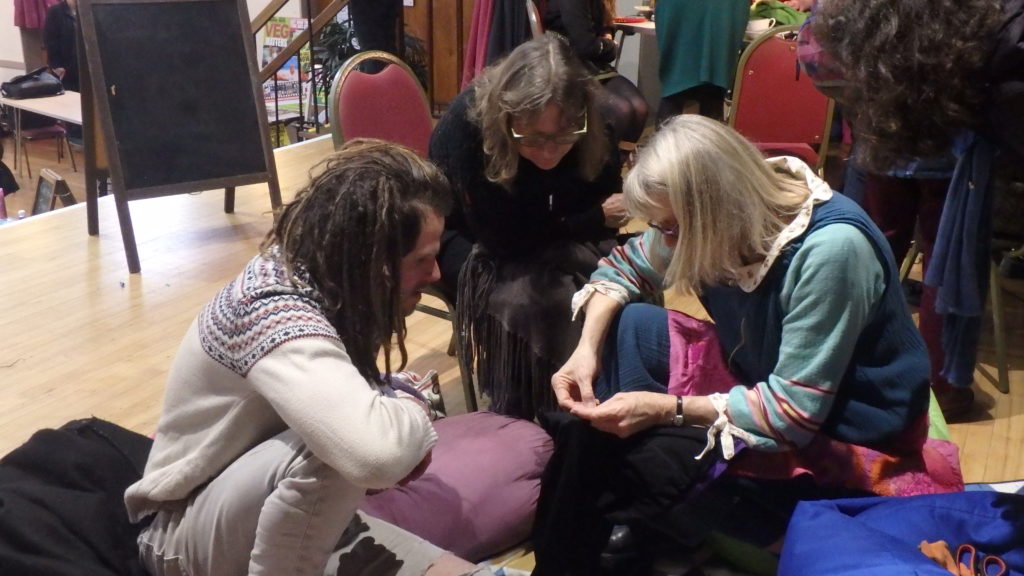 Sharing is caring – and good fun
If you're worried about all the food that needs preparing, you could propose a potluck lunch (bring-and-share) to all your guests, so everyone shares the responsibly and joy of offering food.
You can also look for community projects focused on sharing. In Totnes, the Network of Wellbeing has supported Community Potlucks and more recently on the Share Shed and the Share Fest. These kind of projects can be a great way to bring people together, and wherever you are, you can hopefully find these types of projects to connect with.
As has been said by Leonard Nimoy "the more we share, the more we have".
Happy Holidays!
We hope that you find many ways to have a more meaningful and sustainable festive season, filled with wellbeing. Thank you for reading and wishing you a truly beautiful holiday season!