It's another day at the Share Shed, Totnes; a community project in south Devon, known as a 'library of things'. Our principles are progressive and yet very old. And our project is rooted in a simple way of living; based on sharing, connection and the power of community. 
Like a book library, our initiative allows members to borrow items from our everyday lives that do not make sense for us to own. Items such as suitcases, tools, carpet cleaners, camping and gardening equipment, house appliances, musical instruments, pressure washers and much much more.
Take for instance an electric drill. On average, this item is used for 13 minutes in its lifetime! How many electric drills might exist in a residential building? And in a single street? 
Projects like the Share Shed invite us to consider what we actually need rather than the stuff we think we have to buy and own to meet that need. We don't need a drill, we need a hole on the wall. And this is an important distinction to make.
Our 350+ items have been donated by people in the community who might be downsizing, decluttering or simply acknowledging they no longer use such items. Our team check them out, makes sure they're working and are safe to be used, and then the items are added to our system, allowing members to borrow them immediately.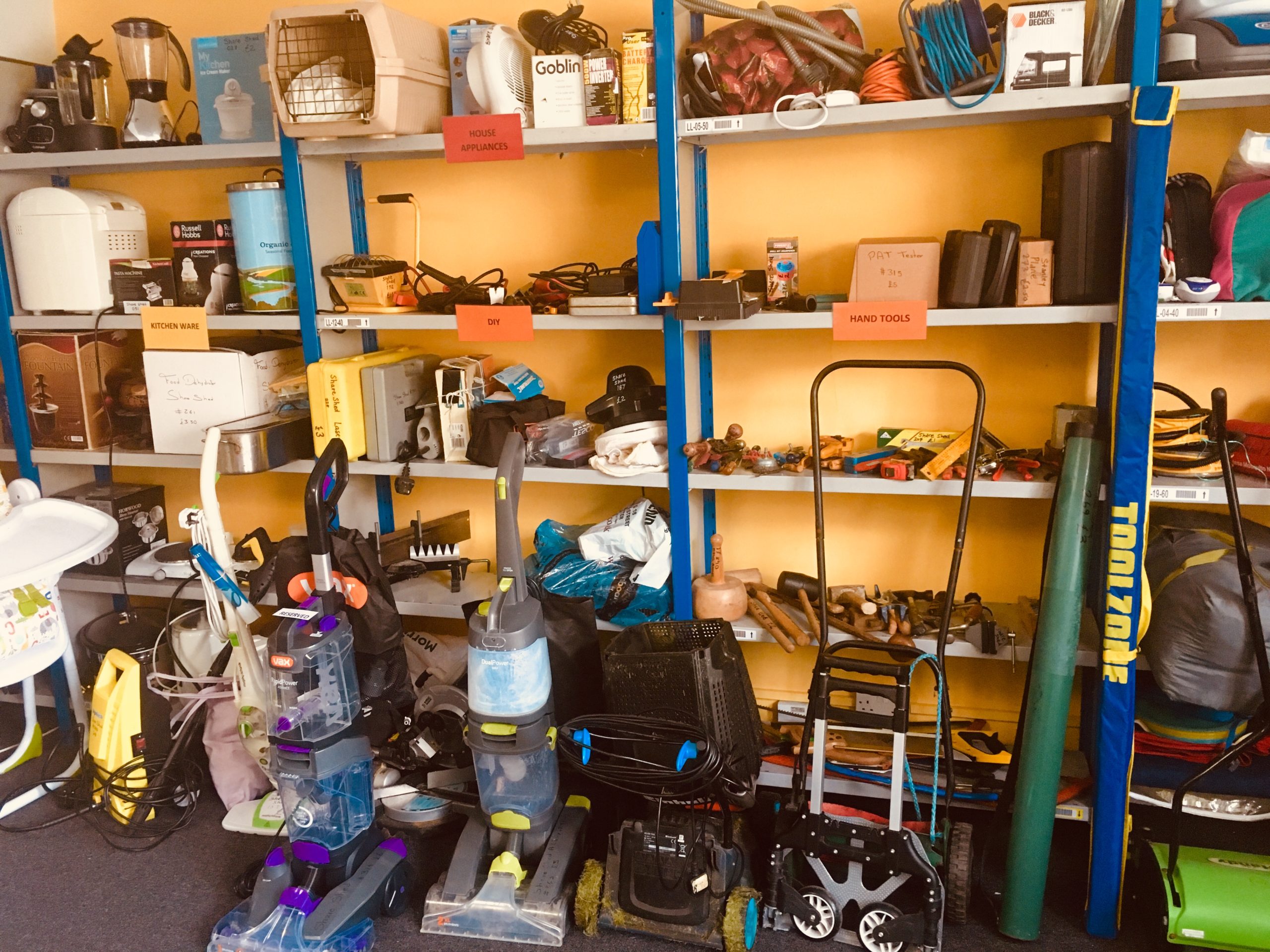 On a Saturday morning, when we're open from 10am to 1pm, we had a family coming to return the projector and pop-up screen they borrowed for a fun weekend, a man borrowing a hedge trimmer, and a lady reserving a mitre-saw for next week, when, as she put it, "We have a mission to accomplish!" We also had the local reverend coming in to show his appreciation for our project and remind us how important it is to value and support our community.
And to top it off, we meet a young Swedish woman who's just moved here and who's interested in volunteering with us, a couple of people from other parts of the country who are seeking more information on how to set up a similar project where they are, and Betty, a lady who's struggling to walk up the High Street, since she's left her walking stick at home. We lend her the one we have here and get to enjoy her grateful smile as she goes on her way! All of this, and many more interesting interactions in just a few hours! 
That day, I was working with an enthusiastic volunteer and now friend Kath who regularly offers her time and skills to keep the project alive. It's a joy to hear her introducing the project to those passing by, as she proudly announces "This is a brilliant project, in case you haven't heard already."
Since our humble beginnings in a little garage (which the Town Council allowed us to use free of charge) three years ago, we have celebrated more than 800 loans and welcomed over 600 members. We've also celebrated the enormous support, donations, funding, conversations and learnings over this time. 
As we approach Spring, we're busy creating the first mobile library of things in the world. Thanks to the National Lottery Community Fund and the Network of Wellbeing, we will soon be taking the project out to our neighbouring towns of Ashburton, Buckfastleigh and South Brent, allowing more people to access our mobile library of things.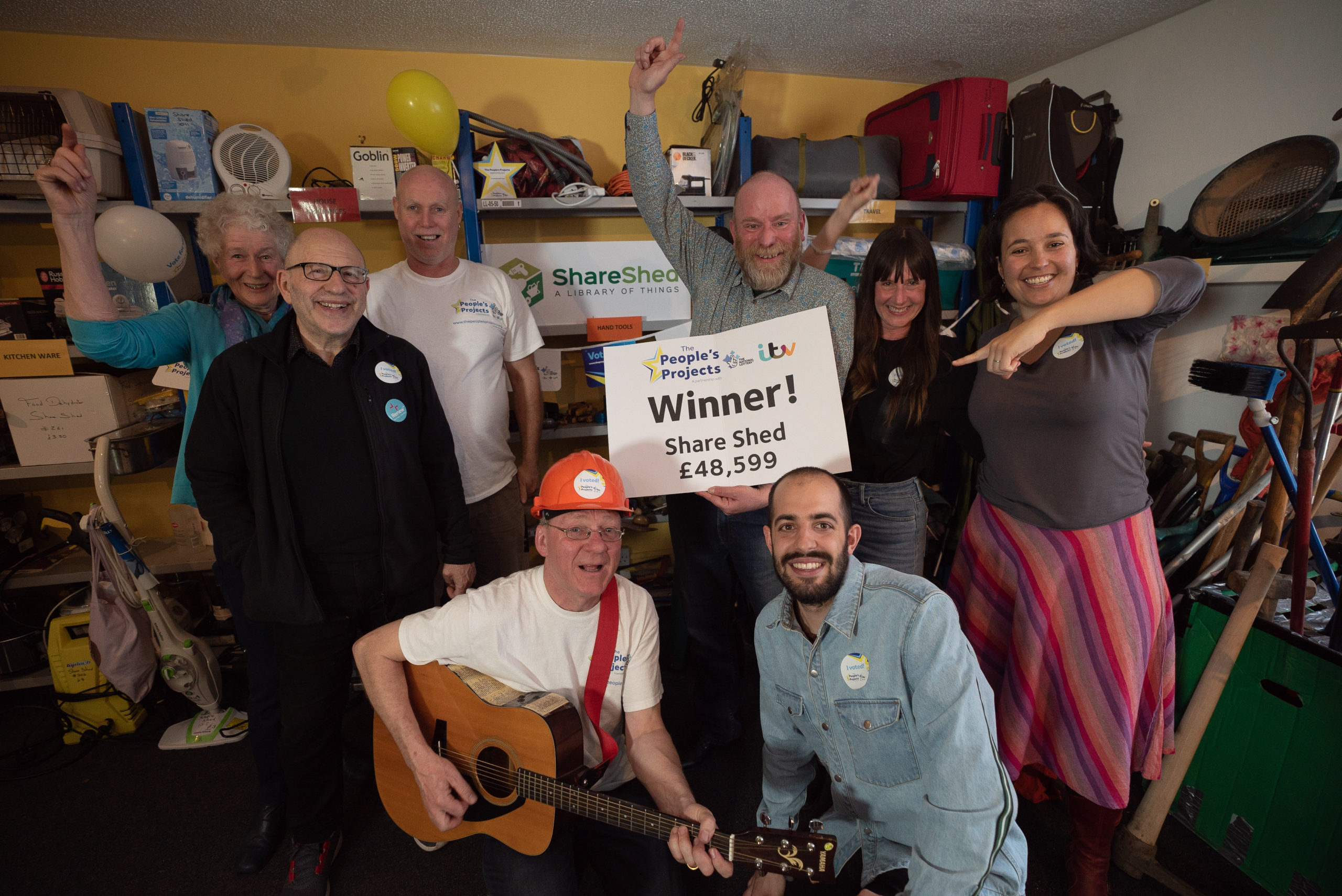 Looking ahead, we're hosting The Big Fix, Totnes event on Saturday 15 February in partnership with Restore Dartington and Transition Town Totnes to support Britain's biggest repair day. And following the success of 2018's event, we're planning the second ShareFest: a day-long festival to celebrate sharing, repairing, swapping and making. This is scheduled to take place on 21 November at the Civic Hall, Totnes. 
It's about time we review our relationship with consumerism. It's important to be aware of the choices we're making, especially the impact these choices make – for ourselves, for the community we're a part of and for the planet. 
So next time you rush out to purchase a new item, pause and consider, "Is this something I could borrow? Could I source it from someone I know? Could this be an opportunity to connect with my neighbours? Could I allow myself to be vulnerable, voice my need and ask for help?"
Let's share. Things, skills, emotions, learnings and resources. After all, as Leonard Nimoy once said, "The more we share, the more we have".