In times of challenge, it becomes even more important to take care of each other as well as ourselves. The COVID-19 pandemic poses a serious risk to the wellbeing of people across the world. It is important to take the precaution of physical distancing wherever possible, and it is also vital we come together in other safe ways to support each other and protect those most vulnerable in our society. 
In this post we share the Network of Wellbeing (NOW) response to COVID-19, as follows: 
Prioritise physical and mental health 

Inspiring responses to uncertain times

Impact on NOW's projects and events

Image credit: Total Shape
Prioritise Physical and Mental Health 
It is important to stay calm, while also taking the COVID-19 virus very seriously. The spread of the virus can be slowed by the choices we make, and this will lessen the severity of impact on our health system and on wider society. 
Recommendations include washing your hands regularly, staying home whenever possible and generally ensuring physical distance from public spaces. For all of the latest health advice, you can visit the World Health Organisation. 
Evidence suggests that this virus is not as dangerous for younger, healthy people and that the majority will recover. However, we will all be impacted and taking precautions is vital to protect those most vulnerable in our society.  
This time of uncertainty is of course taking its toll on all of us. The constant news cycle provides us with endless ongoing details as this unprecedented pandemic unfolds. While it is vital to stay informed, it is also important not to get completely overwhelmed. 
You can take simple steps to care for your mental health at this time, including: 
Stay connected to others

: 'Social distancing' is a priority for physical health, but this can actually be best understood as a call for 'physical distancing' from each other; it is more important than ever that we stay socially connected.

We can find safe ways to connect

, for example by reaching out to loved ones for phone calls or video chats. 

Make time for simple joys

: Listening to the birds singing, doing something creative (like drawing or playing an instrument), reading a new book – there are many things we can do at home to keep our spirits high. 

Remember the basics

: Drink enough water, get enough sleep, eat as well as you are able to and take some time to move each day (even if it is a yoga or dance session in your living room). 
For more info on this important topic, check out: 
Inspiring Responses to Uncertain Times
The coronavirus is impacting people's daily lives in serious and scary ways. Yet alongside this, there are so many heartening stories of kindness, compassion and resilience. Here are just a few examples: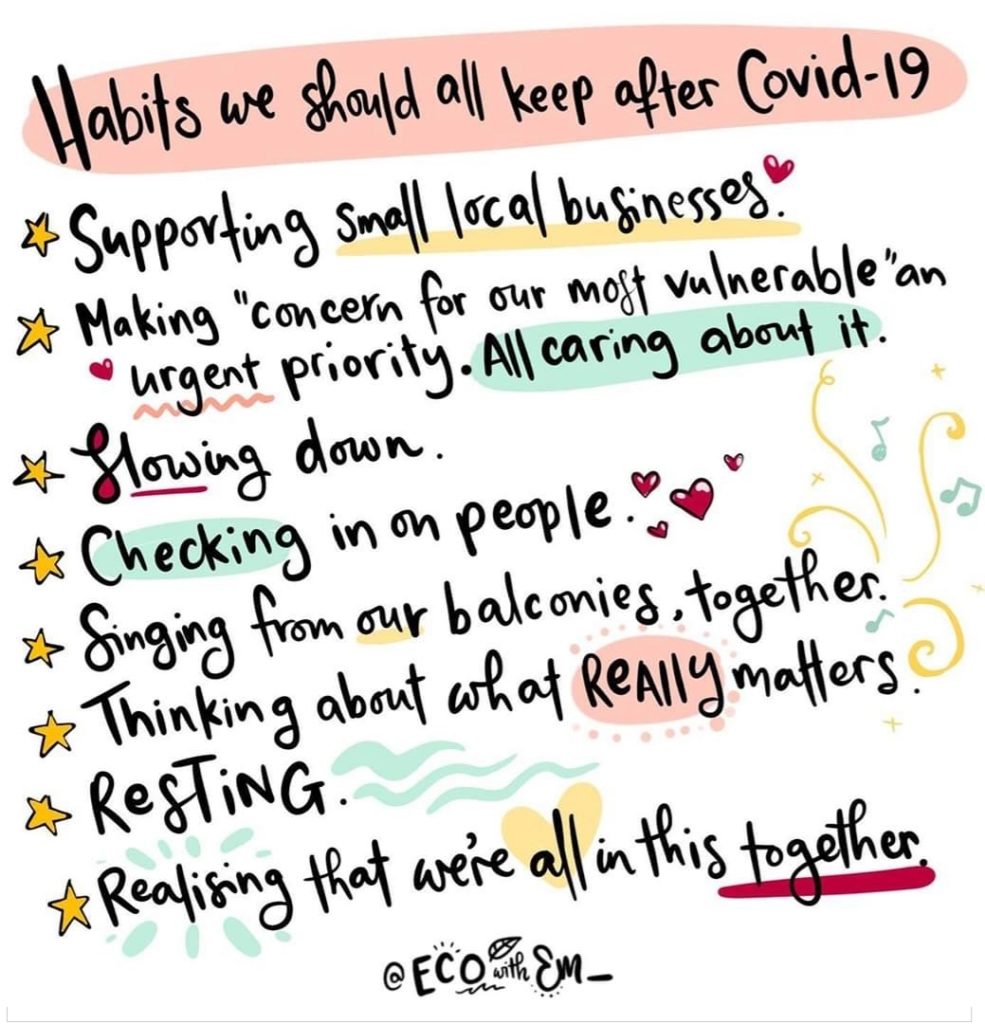 The poem, Lockdown by Fr. Richard Hendrick, OFM, also shares a valuable (re)framing of the current situation: 
"…Listen, behind the factory noises of your panic
The birds are singing again
The sky is clearing,
Spring is coming,
And we are always encompassed by Love."
Direct impact on NOW's events and projects
We are reviewing all of our activities and events in light of the coronavirus, and keeping a close eye on developments. At present, we have decided: 
To postpone and re-imagine all upcoming events we were planning to contribute to or co-host, including Radical Wellbeing and the Leeds Festival (see further details below).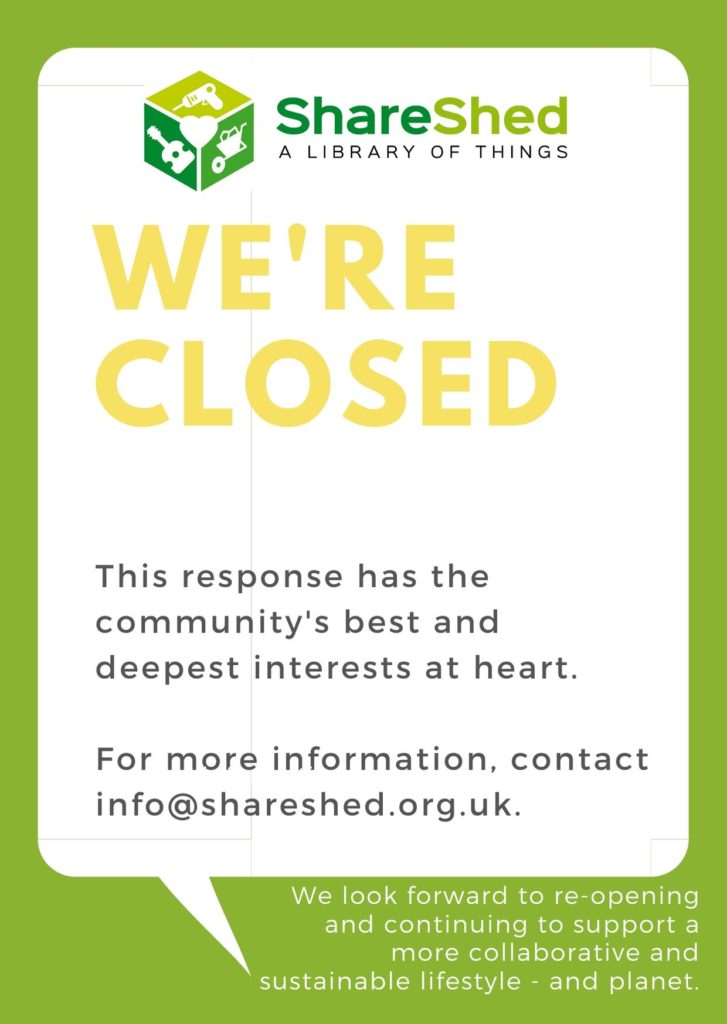 Share Shed – A Library of Things: 
Until further notice, the Share Shed, in Totnes (Devon), will be closed in order to slow the speed of community transmission of COVID-19 and to protect the entire community. 
We will continue to monitor the situation and update all of our members as well as the general public in due course. Please get in touch via info@shareshed.org.uk for more information.
We look forward to re-opening and continuing to support a more collaborative and sustainable lifestyle – and planet!
Eden Rise: 
We have closed our small retreat venue, Eden Rise until at least the end of May. We are in direct communication with all those who have booked this venue, and we will continue to keep those with any direct connection to the venue updated on latest news and decisions. If you have any questions about this please contact sylvie@networkofwellbeing.org.
Leeds Festival of Kindness, Compassion and Wellbeing:
NOW has been supporting the development of this Festival, due to happen in September 2020. The organising team is currently evaluating which aspects of the Festival could go ahead and how they may adapt to an online setting. They will make an announcement about this in due course. If you have any questions about this please contact josh@networkofwellbeing.org.
Finding New Ways to Connect: 
We are aware that COVID-19 is impacting on all of us and all the work many have been doing to create and support wellbeing in our lives and communities. We are exploring offering more activities and events online to help support people during these times. Watch this space for more details. 
In the meantime, if you'd like to let us know about an inspiring response or an online event that has emerged to support people's wellbeing at this time then please let us know by dropping us a message on social media (Twitter, Facebook or Instagram). 
We have to react to this health crisis together; let's stay safe and let's take care of ourselves and each other.