What a year 2020 has been! Here, Network of Wellbeing Director, Roger Higman looks back on 2020 – what it's meant for us and what lessons it might hold for the future.
---
Who could have imagined, this time last year, that 2020 would turn out like it has? 
Not me. It's no exaggeration to say that the Covid pandemic has forced the biggest changes I can ever remember in the way I lead my life. And I am sure that is true for many of you, too. 
The pandemic has affected us all, brought tragedy to many and reminded us in the starkest terms how dependent our wellbeing is on the wellbeing of others around us and on the natural systems on which we all ultimately depend.
It also upended pretty much everything we were planning to do at the Network of Wellbeing (NOW). 
Back in March, with the first lockdown imminent, we had to throw out all our pre-existing plans and make some quick decisions. 
New ways to connect
We knew that connecting with each other would be even more important in this uncertain and rapidly changing time, so we wanted to create new invitations for people to connect. We also wanted to share tips and resources to support mental health and wellbeing at this challenging time.
So, we reinstated our Wellbeing Together Webinars – to give people a chance to connect and to highlight the incredible work being done on wellbeing at the community level. We also started facilitating Listening Spaces with the Heart Movement to honour and to hear the variety of human experience; the big challenges, the big joys and everything in between. And we've worked together with groups like Kinder Leeds and Eden Project Communities to reach as many people as possible.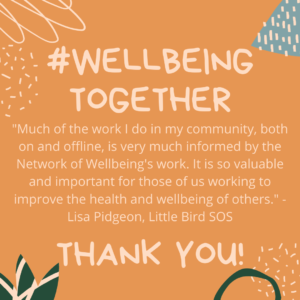 The move towards online events proved popular. NOW's events  attracted a following from all over the UK and beyond, with close to 3,000 people registering for our online events throughout the year. 
People came together to learn about everything from strategies for personal resilience through to community action in a time of crisis and the joys of spending time in nature. Our most recent webinar Less Stuff, More Happiness – with US environmentalist, Rob Greenfield, attracted over a live audience of over 220 people. Explore our ever-growing library of webinar recordings here.  

In the process, we've strengthened our connections with many different people and organisations in our network – and made new links to new ones. We'd like to thank everyone who has been involved.
Adapting to change
Meanwhile, we've made some big changes to our projects. Lockdown temporarily forced us to close our library of things, the Share Shed and our retreat venue, Eden Rise. But we have been working hard behind the scenes.
We completed the conversion of the Share Shed into the world's first travelling library of things and reopened in July, serving Ashburton, Buckfastleigh and South Brent, as well as Totnes. The impact was immediate, and our turnover doubled – as more and more people came out to borrow things they didn't want to buy.
We also converted Eden Rise into a fully single-occupancy venue, replete with bell tents as a glamping option, such that by September, we could host our first socially-distanced retreats. As it has become clear that it is possible to host a Covid-secure retreat, demand has surged. People are clearly looking for opportunities to look after themselves – and we are exploring how we can make use of neighbouring land to enable more retreats to take place outside in 2021. (For details on booking Eden Rise, and our current winter offer, click here.) 
So, what have we learned? 
First and foremost, 2020 has reaffirmed our understanding that our wellbeing depends on that of others. We are all immensely grateful to the millions of health and care workers who have worked so hard to save lives during the pandemic – and to the millions of others who have provided essential services. 
Secondly, 2020 has refocused our minds on what really matters in life – our health and wellbeing – and the things that matter to that – what we do with our lives, our connections to others, and our connection to the natural world. 
Hopefully, we will heed both of these lessons in future – and continue to work to build wellbeing together. 
Let's stay connected
We'd love to stay in regular touch with you on our social media channels, Twitter, Facebook page and group, Instagram and LinkedIn. Plus, if you'd like to share your views on NOW's activities please fill out this brief survey. We always love to hear from you. Thank you for your support and hoping you stay safe and well over the holidays.