At NOW, we believe that the best way to build wellbeing is together! 
Over this past year, we've been working hard to effect positive change in the UK, and to deliver improved wellbeing for people, society and the planet.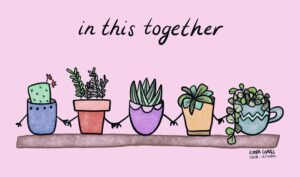 PC: Kara_Artwork
We're committed to building an interconnected network of people and organisations who are passionate about our vision of wellbeing; to establishing and promoting projects and events that demonstrate this vision; and to furthering the wellbeing agenda by raising awareness about wellbeing as a key societal issue. 
In this blog, we're delighted to share our latest annual report with you. We hope this is a welcome reminder of the work that we're doing together, the impact that we've made, and why this work is so critical – especially now! 
As always, please let us know if you have any feedback or ideas. 
Download the 2020 annual report here. 
Over this past year, we've strengthened our connections with many different people and organisations in our network – and made links to new ones. We'd like to thank everyone who has been involved.
Let's stay connected!
Our work is about building wellbeing together. There are many ways for you to get involved – to connect, to learn, to share – to become a part of our vibrant and inspiring network!
Please connect with us to stay updated on our work and explore our ever-growing library of webinar recordings here. 
Plus, if you'd like to share your views on NOW's activities please fill out this brief survey. We always love to hear from you.
Thank you for your continued support. We look forward to building wellbeing together in 2021 and beyond!