Set up by the
Network of Wellbeing
(NOW) in 2017, the
Share Shed – A Library of Things
has pioneered a new way of offering useful items for people to borrow at a low cost, via a travelling library of things, which we're proud to share it's going from strength to strength, receiving further funding, reaching more people and extending its route. 
We're excited to now be able to offer a free 'Ask the Share Shed' session online, for those who are keen to set up or support something similar in their community.
Sign up for this session here
, and read on to learn more about what's been happening at the Share Shed in recent months. 
________________________________________________________________________________
Sharing Made Convenient for People and Kind for the Planet
With over 350 useful items available, from drills and gazebos to chocolate fountain, carpet cleaners, dehumidifiers and hedge trimmers, the  Share Shed – A Library of Things offers the option for people to borrow things at a low cost, to get things done in a way that's affordable, convenient and kinder to the planet. 
So, if you're keen to get on with a DIY project like sanding a table or cleaning the patio with a pressure washer, or if you're planning to dehydrate some food to store over the autumn, or keen to have a film night with a projector and screen, the Share Shed is a helpful project to source your materials and equipment from.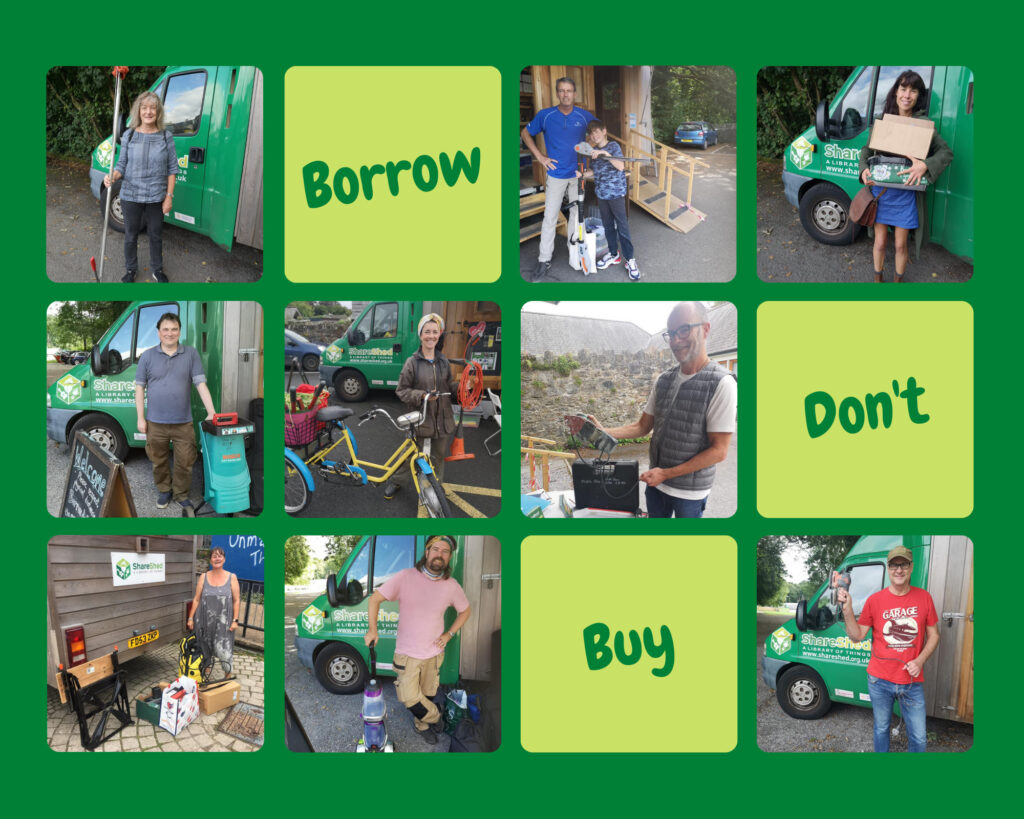 New Funding, New Route
Travelling in its bespoke van, a real 'shed on wheels', the service follows a weekly route in Devon, UK. Thanks to the support from the Town Councils of the communities where the service operates and the generous funding recently awarded by the Postcode Local Trust, as well as continuing to serve Totnes, Buckfastleigh, Ashburton and South Brent, the van will also have a weekly stop at St John's School, in Bridgetown, and at The Cider Press Centre, in Dartington.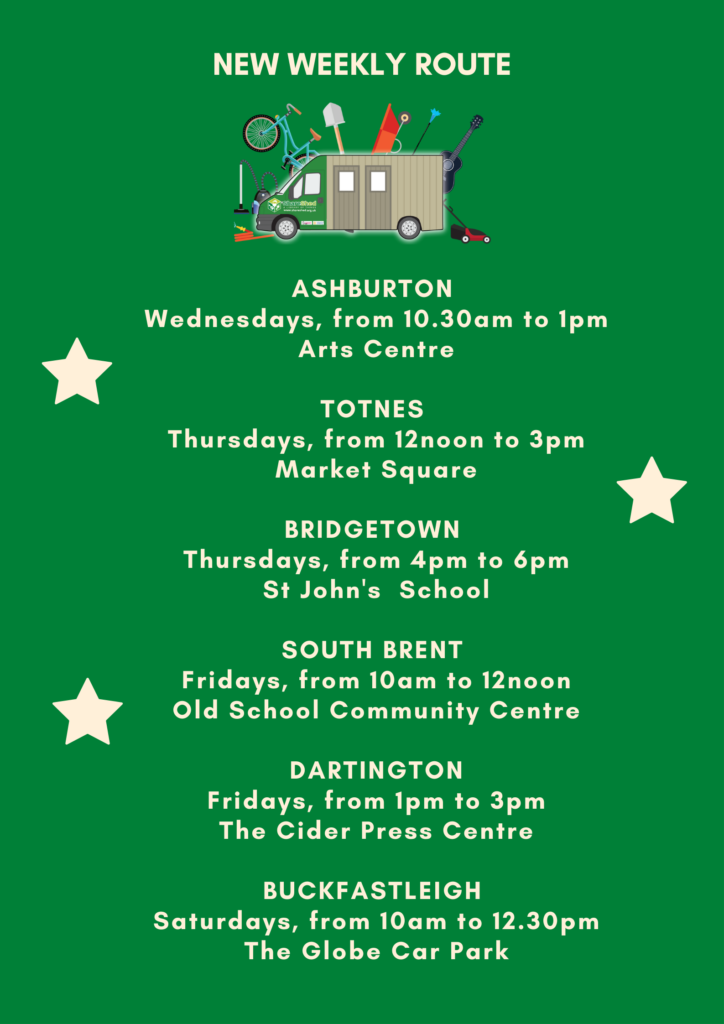 Over 1,200 people have already become members of this project, that's helping people save money, storage space and resources. 
Mirella Ferraz, NOW's Project Coordinator, says: "we're really excited to be extending our services and making it even more convenient for people to borrow things instead of buying them, which is great for the pocket, for the community and for the planet." 
Support Setting up Your Own Library of Things
For those considering setting up a similar project and would like to talk things through with someone who's been through the process, you're welcome to watch this webinar, in which Mirella outlines the steps involved in this journey. If you have more questions, you can also join the 'Ask the Share Shed' online session on 22nd October, from 12 to 1pm. This is a trial event, and if it proves helpful we will be happy to offer these sessions more regularly – so please let us know if this is of interest for you. You can register for free for this event here, or contact us if you can't make this date but would like to join another time, plus make a donation to support the project here.

Further Events and Membership
Over the next year the Share Shed will be hosting a series of skillshare and repair events in order to bring people together to develop skills, connect with each other, and reduce waste. In preparation for school's half-term, the initiative will be hosting a Traditional Games Skillshare on 23rd October, from 1pm to 2.30pm, at the Victoria Park, in Buckfastleigh.
You can become a member of the Share Shed online here. Simply fill in a membership form with your personal details, and make a donation between £5 and £50 towards your annual membership. You will be able to reserve the items you want straight away. Each item has a nominal fee, which refers to a week-long loan, and all the funds raised help keep this social project going. 
For more information, to see all the items available and to check the opening hours and locations, visit www.shareshed.org.uk.