The long-term peace and environment activist, and co-founder of The Network of Wellbeing (NOW), Satish Kumar is stepping down as a NOW Trustee, but will continue to champion our our work as NOW's first Patron. Join us in saying #ThankYouSatish (via Twitter, Facebook, or Instagram) and read about Satish's incredible journey below.
Roger Higman, Director of NOW, said "It is with huge gratitude that we thank Satish for sharing his wisdom, support and encouragement over the last decade. 
"Satish's contribution to the Network of Wellbeing has been immense. We will all miss his warmth and wisdom at our Trustee meetings but we are thrilled he has agreed to continue to support NOW as a Patron."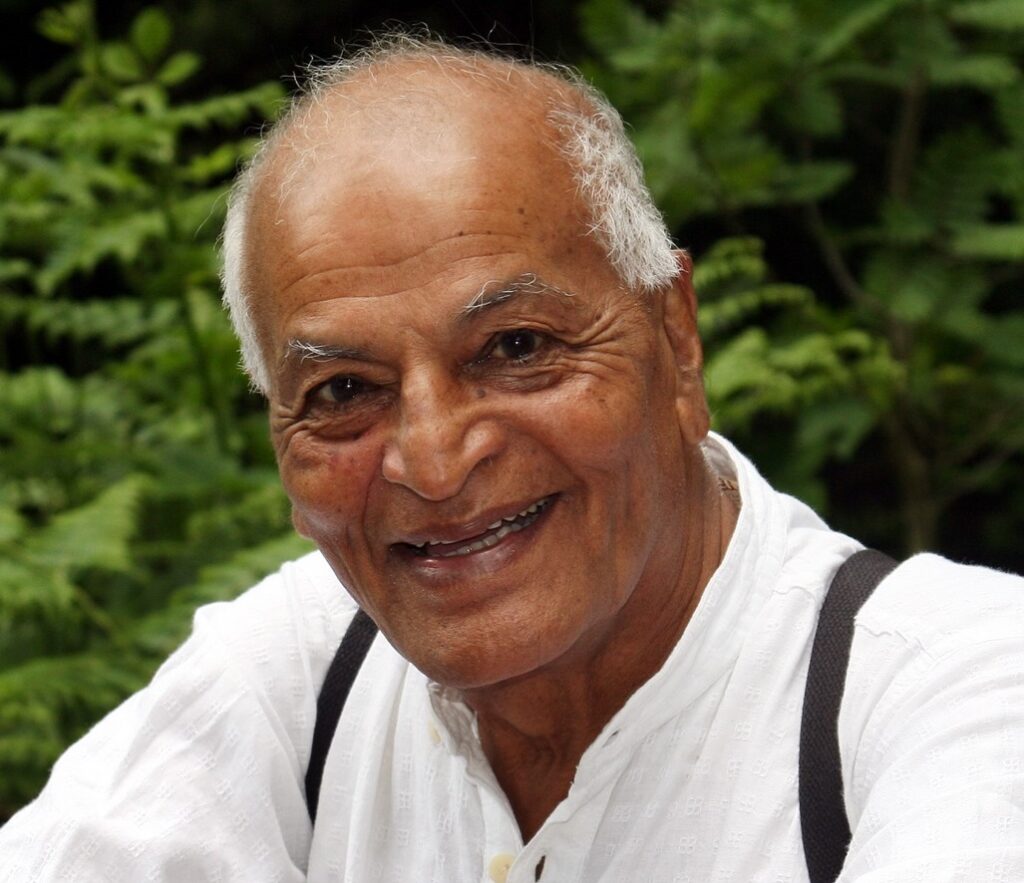 A lifetime devoted to wellbeing of people and planet
Known throughout the world, Satish is an inspiring leader and key figurehead in the environmental and wellbeing movements, and has devoted much of his life to influencing the global agenda. Last year he won the P.E.A Environment Award for most ecological family, and spoke at the Vatican about the climate emergency ahead of COP26. 
Born in India and now living in England, Satish left his family home at age 9 to become  a Jain Monk. At 18, he decided he could achieve more back in the world, campaigning for land reform and working to turn Gandhi's vision of a renewed India and a peaceful world into reality. In 1962 Satish set out on a Peace Walk – a pilgrimage from India to the four nuclear capitals of the world. 
Now in his 80s, Satish has won multiple awards, written many books, and spoken around the world on TV, radio and at events. He was the Editor of Resurgence and Ecologist for more than 40 years, and stays committed to this work as Editor Emeritus. His work continues to be of critical importance and inspiration to many.
Celebrating Satish's work with NOW
Since first meeting NOW co-founders Nigel and Margaret Woodward almost 10 years ago, Satish has shared NOW's vision of a world focused on wellbeing, in which we live more sustainably within the planet's natural limits. During this time, he has championed our work, and involved NOW as a key partner in the Resurgence Festival of Wellbeing. He was instrumental in encouraging us to work together with Resurgence in the Hope in Action series of webinars (sign up to our newsletter to hear more about future events).
He also spoke eloquently and powerfully on our behalf. Here are some of the highlights of Satish's work with NOW:
Wellbeing for ourselves, our communities, and the planet
Satish shares that we need to shift our focus from external, financial progress to progress in wellbeing. He explains that wellbeing is about celebrating the wonders and magic of nature and humanity, suggesting we don't need rocket science, money or books for wellbeing – but instead can achieve greater wellbeing through three simple steps – taking care of ourselves, our community and the planet.
"We have to have personal wellbeing connected with the wellbeing of the earth"
In this video Satish explains the different elements of wellbeing – personal, social, community and the earth, and the interconnectedness of these.
"The purpose of human life is more than economic growth. The purpose of human life is the growth in human happiness"
For International Day of Happiness Satish spoke about happiness coming from caring for each other and the planet, suggesting that connecting with people and nature should be regular everyday practices, and that we should move away from focusing on money and finance.
#ThankYouSatish
On behalf of everyone at NOW, we'd like to say a very big thank you to Satish for sharing his passion, dedication, energy and wisdom as a NOW Trustee over the last 10 years, and for continuing to inspire and encourage better wellbeing of people and the planet in all that he does.
It's clear that Satish's work has had a huge impact and inspired so many of us. If you would also like to share a message of thanks for Satish, please share your words/photo/video/artwork with the hashtag #ThankYouSatish with us on Facebook, Twitter and Instagram, and we will collate and share as many as possible to share with him.