As we move further into Springtime, we're focusing on the wellbeing benefits of connection; to ourselves, each other and the natural world.
Recently we co-hosted Planting Seeds of Wellbeing: Community Access to Nature Through Growing – an online event co-hosted with Eden Project Communities and timed at the launch of Plant and Share Month. We explored how connecting with nature supports our wellbeing, how gardening can deepen this connection, and how to overcome some of the barriers to getting involved.

In this post we take a closer look at the inspiring messages from the speakers, and some of the brilliant growing projects taking place across the country. You can also watch the event recording embedded below.
---
During the online event, Planting Seeds of Wellbeing, we heard from a panel of inspiring speakers including Andrea Gibbons – Soil Association, Maggie Finnegan – An Tobar Wellness Centre, Anne Hayden – Your Planet Doctors and Amit Dattani – The Active Wellbeing Society, and explored how access to green space and growing initiatives can be made accessible for diverse groups of people to support greater wellbeing for all.
Bringing People Together Through Food
Andrea Gibbons – UK Network Manager for the Soil Association's Food For Life Get Togethers programme, set the scene for the event by introducing Plant and Share Month, taking place between 20 April – 20 May. This initiative celebrates and encourages people to come together through growing and sharing food, and is the inspiration for lots of community growing projects throughout the UK. Find out more about Plant and Share month and how to get involved here.
The Magic of Connecting with Nature
Maggie Finnegan is the Co-Founder of An Tobar Wellness Centre in Northern Ireland, which is a partner of the Food For Life programme and runs nature-based wellness programmes for a range of people in the local community – including children, schools, families, those with learning disabilities, mental health problems, dementia, and the elderly. Maggie gave an insightful overview of the science behind why we connect with nature, and the benefits this has.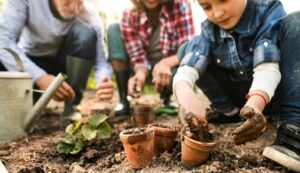 As Maggie explained, 'spending time in the natural environment improves our mental health and feelings of wellbeing', and various studies have demonstrated that engaging with nature can have multiple benefits including a reduction in stress, depression, anxiety, mental fatigue, anger and aggression, pain, and improve mood, sleep, confidence, self-esteem, cognitive functioning, creativity, immune functioning, longevity, energy – and more. Today, scientists from various disciplines are beginning to recognise this affinity with the natural world – and the many benefits this may have to our overall health.
Maggie shared various pieces of research that support the idea that nature increases wellbeing including the 5 Nature Connection Pathways, the 5 Pathways to Wellbeing, Biophilia Hypothesis, Attention Restoration Theory, and Stress Reduction Theory, and explained how "the magic of connection to Mother Nature" – which occurs because of experiencing phytoncides (aromas), fractals (patterns), sunlight, nature sounds and good soil bacteria.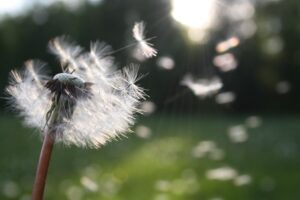 Working Collaboratively and Learning Together
Anne Hayden, a retired GP in Bournemouth, Dorset, who Your Planet Doctors, and shared with us the value of working collaboratively, in partnership across communities. 'Grow your own Rainbow Gardens' is the community project Anne started in local neighbourhoods, and quickly learnt from this the value of working and learning together with other local groups. In phase 2 of the project, Anne has brought on board various sectors of the community including schools, community centres, the hospital, GPs, community gardens, businesses and churches – who all work collaboratively towards the overall goal of improving the community's wellbeing.
As Anne says, 'growing your own food, especially in small neighbourhood groups, is very good for you, and boosts your mental health – and everything else'.
Tackling Inequalities Through Practical Action
Amit Dattani is part of The Active Wellbeing Society (TAWS), an organisation that works nationally, and does much of its work in Birmingham – a city with vast inequalities and high levels of poverty. Here green space is not accessible to all – meaning not everyone can access the wellbeing benefits that being outside can bring, including higher life expectancy. Amit explained that there are various physical, emotional and cultural barriers to people accessing green spaces. To tackle this, TAWS have been reconsidering what green space is and can be, and have looked beyond traditional parks to more informal, hyper local areas of green space, such as transforming old car park spaces and installing raised planters at the base of tower blocks.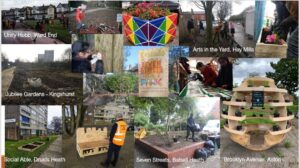 Crucially, TAWS recognised lots of people getting involved were those who already had an interest in the outdoors. And so they set about shifting not only who they were working with, but how and where they were working, to enable more people to benefit. From this they recognised the need to meet people where they are, to build trust, and to meet immediate needs first. Working at community cafes, through social prescribing and networks, they were able to start working with those who simply needed a meal or someone to talk to, and from there they gradually started getting more involved in growing spaces. Amit highlighted how any access to green space, however small that may be, has benefit, and that different types of nature – from large parks to small window boxes, all have an impact on people's wellbeing.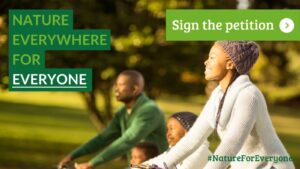 Nature is for Everyone
As this wonderful panel of speakers demonstrated, nature really does have wide-ranging benefits for everyone. And thanks to great projects such as these, there's lots of brilliant work taking place to break down the barriers to accessing nature, and to include various sectors of communities. 
However we know that access to nature, and the associated benefits of this, is still uneven across the country, and in fact, Natural England suggests that only 1 in 3 people in England have access to greenspace within 15 minutes' walk of their home. 
This is why Wildlife and Countryside Link have started the Nature for Everyone campaign – asking the Government to make equal access to nature, and the health and wellbeing benefits it provides, a core part of their Levelling Up plan. 
Please join us in supporting this campaign and calling for equal access to nature, by signing the petition here.
Thank You! 
Thank you to all our speakers for sharing such incredible insights and experiences. You can join us at our next online event with Eden Project Communities on 14th June, exploring wellbeing and loneliness, to mark Loneliness Awareness Week. Reserve your spot here, and keep an eye out on our social media channels and newsletter for further details.