Gretchen Rubin is one of the most thought-provoking and influential writers on habits and happiness. She is the author of instant bestsellers, including The Happiness Project and Happier at Home, and her latest book – Better than Before – is about how we change our habits to achieve a happier life. This week we've been sharing a series of blog posts and videos in the lead up to International Day of Happiness, themed around happiness habits. In this post we share some insights gained from Gretchen Ruben's work.  
"Do good, feel good"
One very valuable lesson that comes through Gretchen Rubin's work is how important giving and being kind to others is for boosting our own happiness levels.
Gretchen emphasises that we should, "do something kind for someone else – do good, feel good – [because] it really works… of course we should do good for others because it is the right thing to do, but it's also true that one of the best ways to make yourself happy is to make other people happy, even with small gestures like picking up people's trash, or signing up to be an organ donor."
So, if you're looking for a positive habit to practice on International Day of Happiness this Sunday 20th March, then why not try doing something kind for someone else?
Take care of yourself
Being happy isn't about putting yourself last though; it is important to take care of your own happiness, as much as that of others. In fact, this is a virtuous circle, as Gretchen points out, "one of the best ways to make yourself happy is to make other people happy;
 one of the best ways to make other people happy is to be happy yourself."
Gretchen explains that "it is interesting to note that being happy yourself makes you more likely, not less likely, to worry about those suffering people. Some people assume that happiness makes people complacent. Quite the contrary. Happy people are more concerned with the problems of other people and more likely to take action to help. So, by making myself happy, I arm myself to be more effective in addressing the world's significant problems."
The importance of self-knowledge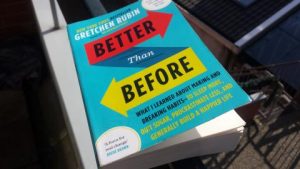 One of the biggest lessons from Gretchen's latest book, Better than Before, is that it is important to understand yourself and your own tendencies in order to build sustainable happiness habits over time.
In Better than Before, Gretchen says "People often ask, 'What are the best habits to follow?' as though there's one path that everyone should take. Debate rages about which habits are most likely to foster creativity and productivity, yet the book Daily Rituals – Mason Currey's exhaustive examination of the work habits of 161 writers, composers, artists, scientists, and philosophers – makes one thing clear: while these brilliant people vary tremendously in the specific habits they follow, they all know very well what habits work for them, and they make a great effort to maintain those habits".
Connect with others
While its important to know ourselves and recognise our diversity when trying to create happiness habits, it's also true that there are some things that make us all happy.
Connection to others is one of these universal things. "Philosophers and scientists agree: close relationships with other people are perhaps the key to a happy life," Gretchen says.
There is a wealth of research on this topic: As the Greater Good Science Centre highlights, "the upshot of 50 years of happiness research is that the quantity and quality of a person's social connections—friendships, relationships with family members, closeness to neighbours, etc.—is so closely related to wellbeing and personal happiness the two can practically be equated."
Overall, if you are able to foster habits based on knowing and caring for yourself, while also doing good and connecting with others, then you will hopefully find yourself on the path towards long-term happiness.
To find more useful tips from Gretchen Rubin's work, you can visit her website.
Putting Happiness Habits into Practice
To mark International Day of Happiness, there are a variety of ways you can get involved:
Whatever you do to mark this International Day of Happiness, we hope you have a wonderful time, and use the Day as inspiration for putting stronger happiness habits in place for the longer term.