In these unprecedented times we need to find effective ways to support each other. The Network of Wellbeing (NOW) has relaunched our webinar series, focusing on how we can build Wellbeing Together in these times of rapid change. This post summarises our most recent webinar, Learning from Lockdown: Community Wellbeing Responses to Covid-19.
---
In lockdown, we've been physically distant from each other, but we have also seen communities come together in inspiring and innovative ways. What can we learn from this, and how can we take these lessons forward beyond Covid-19?
In this webinar, we heard from a variety of organisations leading innovative responses at the community level, including:
Karen Creavin, Chief Executive of The Active Wellbeing Society in Birmingham
Ben Thurman, Policy and Development Officer, Carnegie UK Trust

Tracey Robbins, Head of UK Delivery at Eden Project Communities
Check out the full recording below, and if you'd like to skip to the best bits you can find a list of highlights below the video.
Pushed for time? Skip to the Highlights
At 2 minutes in, Karen Creavin from The Active Wellbeing Society presents on her emerging lessons from the Covid-19 community response work;
At 16 minutes, Ben Thurman reflects on the lessons emerging from his work on kindness in communities at the Carnegie UK Trust;
At 28 minutes, Tracey Robbins from Eden Project Communities shares her perspective of the challenges we're facing and how we can most effectively respond in communities;
From 41 minutes until 1 hour: You can skip this part, as it is an interactive session for the benefit of those who joined us live at the event;
Just before 1 hour and 2 minutes: Roger Higman, NOW Director, summarises some key questions arising from the discussion, including: How do we help community support will last in the longterm? And how do we support those most difficult to reach?
At 1 hour 15 minutes: All of our event speakers – Karen, Ben and Tracey – offer their takeaway message from this event.
Join Us Live Next Time
More than ever, we need to share if we are to strengthen our relationships, our communities and support a more sustainable world. In our next Wellbeing Together webinar, on Tuesday 26th May at 7.30pm, we will hear from two long-time explorers and practitioners of the Sharing Economy:
Benita Matofska (change-maker, speaker, author, and founder of The People Who Share)
Tom Llewellyn (Podcast host, filmmaker, and partnerships director at Shareable)
You can find out more about the Wellbeing Together webinar series here, and stay in touch by signing up to our newsletter and following us on Twitter, Facebook and Instagram.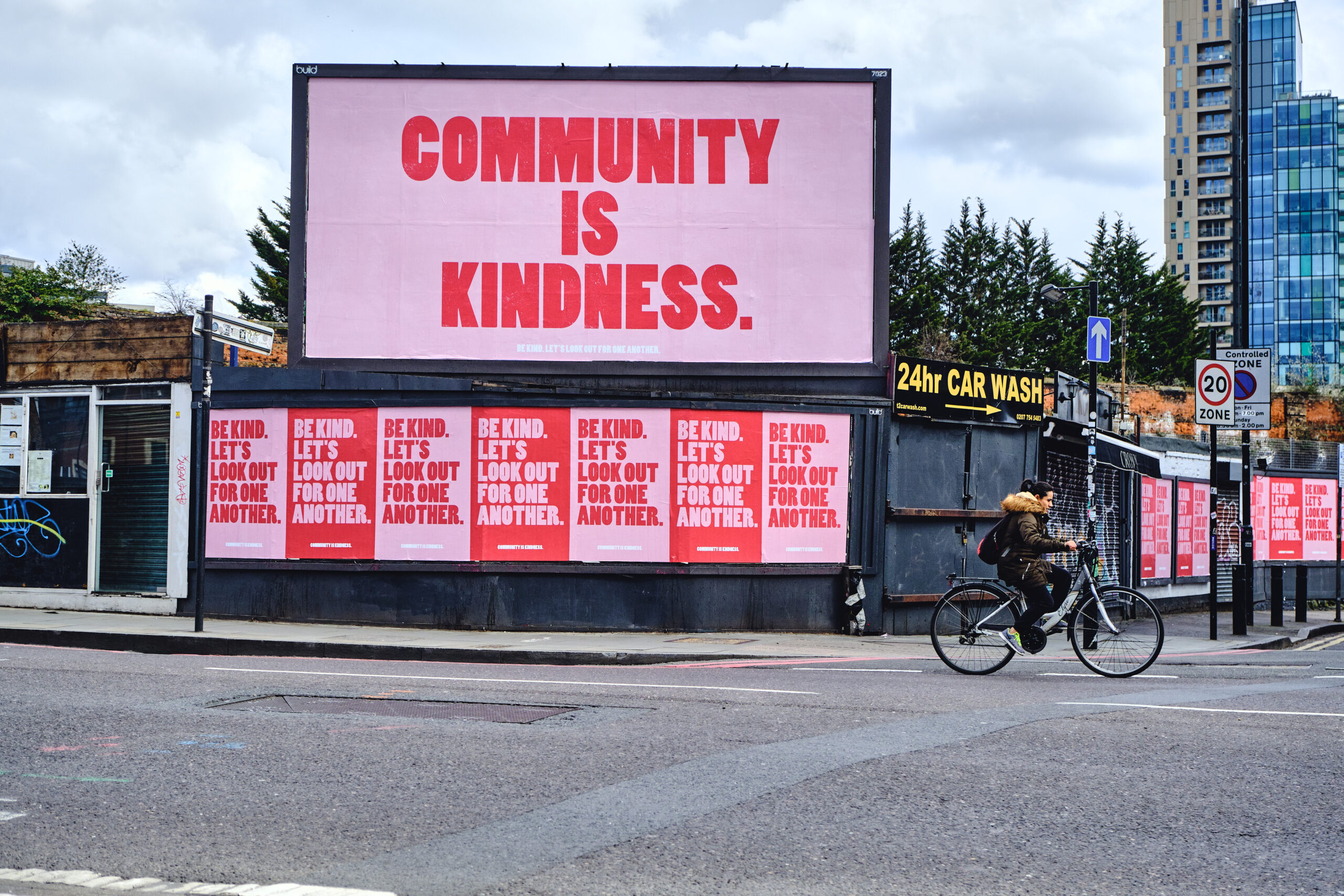 Community is Kindness
Huge thanks to those who created this excellent Community is Kindness poster campaign, and gave us permission to use these images to promote our webinar: Jack, Jack Arts and Diabolical. You can download the artwork from the Jack Arts website, where they are also taking donations to End Youth Homelessness.
We would also like to say a huge thank you to our speakers – Karen Creavin, Ben Thurman and Tracey Robbins, and all those who attended this event. We look forward to continuing to connect and build wellbeing together with you all!