"Kindness strengthens relationships, develops community and deepens solidarity." Mark Rowland – Chief Executive of The Mental Health Foundation. 
This week it is Mental Health Awareness Week, and the chosen theme is kindness. 
We'd like to take this opportunity to reflect on how kindness has the potential to inspire fundamental change in the way we care for ourselves and each other. 
---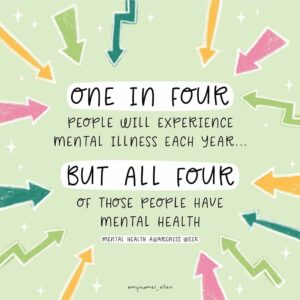 Kindness to Ourselves
We all have mental health, and we all need to take care of it and prioritise it, in the same way we (are encouraged to) do with our physical health. 
Collectively, we are currently going through a disorientating period of rapid change, and this can lead to a rollercoaster of emotions. 
Rather than feel frustrated or stressed with yourself, you can practice ways to be kind to yourself in this time.  
See what happens when accepting your emotions as they arise and exploring what they have to show you, and then taking action from there to show yourself some kindness. 
To support you this week, lots of amazing people and organisations are offering free or low cost events: 
Are you hosting events themed on kindness for Mental Health Awareness Week? Then tag us on Twitter, Facebook or Instagram and we'll try to help spread the word! 
Community is Kindness
We have seen inspiring rise in communities supporting each other in this time, through mutual aid schemes, befriending services and more.  
Our most recent webinar covered the lessons emerging from these community wellbeing responses to covid-19, hearing from a range of guests:  
Karen Creavin, The Active Wellbeing Society

Ben Thurman, Carnegie UK Trust 

Tracey Robbins, Eden Project Communities 
For those who missed our most recent webinar, you can catch up via the recording.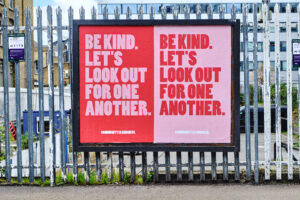 Kindness through the Sharing Economy 
We'd like to challenge the idea that consumption and money make us happy. We need to achieve a certain amount of material security to meet our basic wellbeing needs, but beyond a certain point rises in income have been shown to have less impact on our wellbeing.
What consistently makes a difference to our wellbeing is the strength of our relationships. And we can strengthen our community relationships and our sense of solidarity through sharing. 
Our next free #WellbeingTogether webinar, on Tuesday 26th May at 7.30pm BST, will explore the connections between wellbeing and the sharing economy, with our guests Benita Matofska (The People Who Share) and Tom Llewellyn (Shareable). 
Register for free place at our next webinar here.
Thank you! Let us know what you are doing to support kindness this week 
Thank you to all those who are spreading kindness, this week and every week. 
We're happy to share others' work on social media, because we believe in building wellbeing together. Simply tag us on Twitter, Facebook or Instagram and we'll do our best to support and share.