Just days after the dawn of the New Year tempted us to forget the pain of 2020 and raise our hopes for a better 2021, we have all been placed in another lockdown – at a time of the year which many consider to be the most challenging for our mental health and wellbeing. How can we respond in ways that foster hope, resilience and wellbeing in such an uncertain time? 
---
We are grappling with the current challenges and uncertainties at the Network of Wellbeing (NOW), just as we know many of you are up and down the United Kingdom and beyond. When in doubt, our answer is always the same: let's build wellbeing together. Even though we have to be physically separate from each other, let's keep finding more ways to connect. 
At NOW, we have had to close the Share Shed – our library of things and our Eden Rise retreat venue. Yet we can and will continue to offer lots of ways to connect online; to learn, to share and to explore how to best support each other during these challenging times. 
We kick-off with an opportunity to network with our team and with others passionate about wellbeing for people, society and the planet. On Tuesday 19th January join us for Building Wellbeing Together in 2021: A Networking Webinar from NOW. If you are running a community wellbeing project, pushing to get wellbeing recognised as a policy measurement goal, or are you exploring ways to support your own wellbeing while also caring for others, then this will be a great opportunity for you to connect with like-minded people.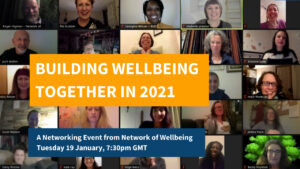 Then on Tuesday 2nd February at 7.30pm GMT, you can join us for Hope in Action: Cultivating Resilience in Uncertain Times, a webinar organised in partnership with the Resurgence Trust, to hear from Satish Kumar, Chris Johnstone, Anthony Bennett and other inspiring voices. This will be a valuable opportunity to learn and be inspired about personal and collective hope & resilience. 
After that, as we begin to look towards Spring, we've a series of webinars looking at how we can boost our wellbeing by getting outside. The series, Small Steps, Big Difference: Nature Connection Can Change the World, will be run in partnership with Eden Project Communities and feature speakers such as Tony Juniper, alongside grassroots community projects sharing lessons you can embed in your own lives and communities. Save the dates for the series (Tuesday evenings at 7.30pm GMT on 16th February, 2nd March and 16th March) and watch this space for further details soon!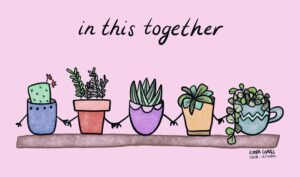 As well as offering events, we'd also love to shine a spotlight on all of the inspiring activities, projects and events many of you are running to support the wellbeing of others. If you'd like us to share your wellbeing news, please tag us via social media (Twitter, Instagram and Facebook), ideally using #WellbeingTogether, and we'll always do our best to re-share. And if you're keen to connect further you can join our Building Wellbeing Together Facebook group to share too.
We know things are not easy right now. We know that it feels like we have some hard weeks and months ahead of us. We encourage you to be honest with yourself and others around you; to allow yourself to feel how you are feeling and to reach out if you need help. We would love to support you to connect with others and with the natural world. We hope you will join us online and we look forward to seeing you soon.