In this post NOW's Mirella Ferraz shares the story of our mobile Share Shed – Library of Things project, including some step-by-step guidance on how to set up your own sharing project. Due to lockdown, the Share Shed has been closed but we're excited to be planning for re-opening on 15th April. 
---
As Leonard Nemoy once said: "the miracle is this: the more we share, the more we have".  
Learning that an electric drill is used, on average, up to 13 minutes in its lifetime, inspired the Network of Wellbeing team to develop a project to support a different way of living and being; one that's more sustainable and in which we share with each other the things we have and use only occasionally. 
The answer came through the Share Shop, a library of things set up in Frome (Somerset, UK). In its inventory, you can find a variety of tools, camping and gardening equipment, household appliances, musical instruments and much more. All available to borrow at a nominal price. 
We've since learnt that there are similar initiatives all over the world, and each one has a unique model. Some are focused on specific items (such as tools, games and even baby slings), whilst others have broader offerings. Some are run by volunteers, whilst others have a team of paid staff. And some operate in shipping containers and small sheds, whilst others are part of a larger co-working space.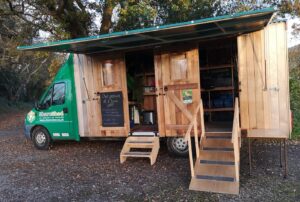 After reflecting on the idea, and assessing the community's interest, we set up the Share Shed in Totnes, Devon in 2017. Since then, we've been sharing our collection of over 350 items, with over 1,000 members. So far we have facilitated over 1,600 loans, helping people save money, storage space and natural resources. 
More recently, thanks to a grant from the National Lottery Community Fund, we've been able to trial a different model of sharing our items. We've gone mobile, and set up the world's first travelling library of things, which allows us to share our items even further, and to more vulnerable communities in neighbouring towns!
Currently we serve four towns every week: Totnes, Buckfastleigh, Ashburton and South Brent. The majority of our things are kept in our bespoke van, including our most popular items like carpet cleaners, pressure washers, electric drills, lawnmowers, tents and sewing machines. We also have access to a garage, where we store large and less popular items such as a car roof box, an extendable ladder, a barbecue, and a wheelbarrow. 
For those considering setting up a similar initiative, here's our 10-step guide to setting up a library of things, based on our key learnings to date: 
Create a team

Assess/generate interest and support

Identify partners (e.g. Repair Cafes/Restart Parties)

Consider the structure of the project (e.g. social enterprise, CIC, charity etc.)

Apply for funding

Find a location, (ideally a prime one in the community you'll be serving) 

Put a call out for items in good working condition

Research and set up an online system up to support with the admin (e.g.

Lend Engine

,

MyTurn

)

Create a website, and start promoting your project

Share (and celebrate!)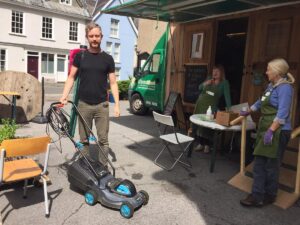 If you're interested in knowing more about the journey of the Share Shed – A Library of Things, you can watch our project coordinator, Mirella Ferraz, share project learnings throughout time. 
Each project has a unique model and way of operating, so there's no right or wrong way of doing things; simply different!
At Network of Wellbeing, we launch and establish projects to demonstrate our vision of wellbeing. The Share Shed offers an inspiring model of how, by consuming less, we can create a more ecologically safe and socially just society where people and planet thrive. As Buckminster Fuller says: "You can never change things by fighting the existing reality. To change something, build a new model that makes the existing model obsolete."
Stay updated and support the Share Shed: 
For further information about the project, visit www.shareshed.org.uk. You can also follow all latest updates on the Share Shed's Facebook and Instagram pages. 
If you're inspired by the work of the Share Shed we'd love to invite you to support the project too. The Share Shed is delighted to have been selected as a Co-op cause for this year. For just £1 (the fee for you to become a Co-op Member), as well as getting discounts in your groceries, you can help us raise funds to help the Share Shed expand its services to other communities. Thanks in advance for your support, and for your enthusiasm about sharing!