In May, we launched our new Vision, Mission and Values for the Network of Wellbeing – to inspire us, clarify our purpose and guide our decision-making. Now, in a series of blog posts, we plan to share the thinking behind these texts. We want to start with some of the reading that has informed and stimulated us. We hope this will also offer you some ideas for reading if you're relaxing over the summer!
---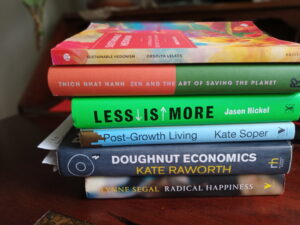 Many and varied are the journeys that have led us to the vision we share today – a world where people and the planet thrive together – and our mission to connect people, support projects and inspire action for the wellbeing of people and the planet. Each of the NOW team has been inspired by particular texts that mean something special to us. 
Here we've selected seven books, out of many others, as particularly pertinent today, in the hope that they will inspire you also.    
Have you read any of the books on this list, and what do you think of them? What other books would you add? Please share here in our Building Wellbeing Together Facebook group, where we regularly connect to share wellbeing resources, ideas and inspiration!