In response to the global urgency to review how many of us live, many exciting initiatives are popping up all over the world to facilitate more sustainable ways of consuming. These initiatives can be seen as part of 'the great turning'; a transition towards a more sustainable, healthy and happy future for all.
More than ever, as some nations – and communities – begin to emerge from lockdowns and the peaks of the pandemic, it is clear we need to co-create a new system: one based on key values such as collaboration, inclusion, kindness, sustainability, justice, creativity, simplicity and wellbeing for all. And many projects are responding to this need.
For instance, whilst charity shops were closed during the lockdowns in the UK, Recycle Devon launched an initiative titled 'Tuesday Tables'. The invitation is simply for neighbours to agree on a day to put they unwanted items outside their place, so people can help themselves.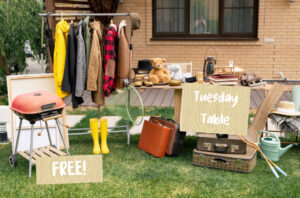 Having engaged in the community swap, this experience proved to be a very effective way to de-clutter whilst connecting with those who live nearby. From no longer wanted furniture, clothes, half used perfumes, and children's toys, these events have supported people to become more resourceful and organised, while also being less wasteful.
Another project that's supporting a different way of consuming and engaging with our local communities is our own library of things, the Share Shed. Set up in 2017 in Totnes (UK), this initiative offers useful items such as tools, camping and gardening equipment, bicycles, suitcases, household appliances, and much more for people to borrow at a low cost.
Following a regular weekly route in Devon with its bespoke van, so far, the project, which is the world's first travelling library of things, has facilitated over 1,800 loans to its 1,000+ members, helping people to save an incredible amount of money, storage space and resources.
At the Network of Wellbeing, we're also proud to have been running webinars that offer opportunities for dialogues with changemakers working on the ground, with grassroots initiatives, as well as government, mainstream businesses, third sector and academia.
At a recent event, we explored how rethinking consumption can help us to build a wellbeing economy good for people and planet, in which we heard from amazing speakers from Rapid Transition Alliance, Circulous, The Restart Project as well as the Share Shed – A Library of Things:
This was a great opportunity to understand the big picture of the issues related to overconsumption, whilst learn about practical ways of doing things differently; one that takes into account the wellbeing of people and the Earth.
Check out our next online events as well as watch our previous webinars here. You can also sign up to NOW's monthly newsletter list here.