To mark the 50 year anniversary of Robert Kennedy's speech, where he expressed the limitations of GDP in leading us to true prosperity, we asked you to get creative and share photos of what GDP fails to measure – or in other words, what makes you 'happy beyond GDP'.
---
This is not necessarily an easy message to express with an image, but you rose to the challenge and we had some beautiful and inspiring entries. We'd like to say a huge thank you to everyone who took part – you can see all the images here.
Drum roll… and the winner is:
We know it's not all about winning, but we did promise… After looking at all of the wonderful entries we're delighted to give the prize to Christopher Boyce's photograph below from his cycling adventures in pursuit of happiness on the way to Bhutan.
We thought this was a beautiful image, and the story Christopher shared really nailed some of the ways GDP fails to reflect what really matters to us.
"I'm on a cycle tour around the world. I'm heading to Bhutan and I'm trying to do it in a sustainable and happy way. Some of the best times have been when I've cycled hard all day and found a beautiful camping spot to rest my body for the night. I am really appreciating nature's gifts on this trip – there is no price tag – and nature is not accounted for in GDP. I feel sad about that, but of course my sadness is also not accounted for in GDP".
GDP is not sensitive to the simple pleasures like camping, or to taking a journey, seeking fulfilment, or simply enjoying the beauty of this world, and in fact often detracts from these joys.
To learn more about the weaknesses of GDP, you can watch this short video with Katherine Trebeck, Wellbeing Economy Alliance. You can also read more about Christopher's research and travels on his Adventures In Happiness blog.
Some other inspiring entries:
The pictures and stories you shared inspired us in many ways, and they have all been popular on social media. Our partners, Happy City, will continue sharing these images on Instagram – and we hope you will also check out the album and all of the entries here.
Below we've shared a few other really strong entries that made us consider the question 'what does GDP fail to measure' in different ways.

@LifeSeekerWales made us smile with the image above celebrating the value of nature and just being outdoors. We wish we had a view like this from our office! Life Seeker Wales' photo caption was:
"Happiness goes beyond GDP: Taken with my phone mid-meeting in west Wales. That day reminded me how privileged I was to be making a living in such a rural and inspiring environment. Fresh air + making good things happen = Happiness".
@jade__morley shared the value of family, connections and simply having fun wherever you can find it. Happiness need not be expensive, and we need to make space for these simple pleasures. Jade said of this photo: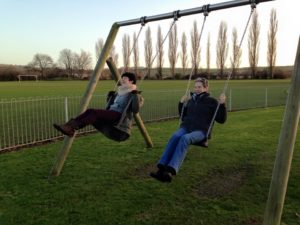 "This is me on the swings with my great-aunt, who has been taking me to this park for almost 30 years. The joy we felt in this photo can't be measured by GDP. She's always loved the swings, as do I, and she's never let go of her ability to have fun and enjoy life, which was a wonderful example for me as a young girl. She is my aunt, godmother and friend, and I hope to have many more years in the playground with her!"
And @laughterlawyeru shared her experience of finding happiness in purpose and social justice, but also in simple human connections and the sharing of special moments (you can see this entry here):
"One of the happiest days of my life was giving a resilience training to relief workers as well as a laughter presentation to refugee children. Taking my shoes off and entering a place of poverty but rich in love was life changing".
What a variety of beautiful entries – thank you once again to all those who shared their photos and their ideas in this photo competition.
Learn more:
If you're inspired and would like to find out more about moving beyond GDP, you can check out the following resources:
Happy City's #InvestIn campaign, calling for the economy to be reprogrammed so that it works for everyone
Thriving Places Index: A measurement framework to help communities and local authorities measure progress beyond GDP
Happiness Pulse: A practical tool to measure your individual wellbeing.
Thank you from all of us at the Network Of Wellbeing and Happy City!