We need to move from a society that allows too much for too few, towards a society of wellbeing for all.
---
The International Forum for Wellbeing in Grenoble, France, in June 2018, brought together hundreds of researchers, activists, policy makers and citizens. The Forum aimed to provide a space to question the dominant narrative of economic growth at all costs, and to share ideas, inspiration and practical tools to help different people and groups work together towards a new type of future.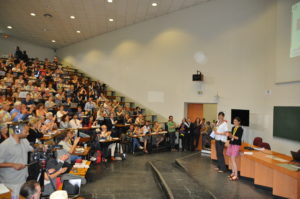 Beyond GDP…
"We are all aware that GDP [Gross Domestic Product] does not measure what is most useful and yet it remains at the heart of policy decisions." In these opening remarks, the Forum organisers emphasised the need to move beyond GDP to create wider societal wellbeing. Many problems with GDP were highlighted, including its inability to measure rampant inequality and environmental damage.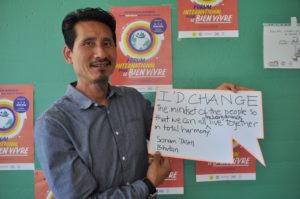 Creating a new model and measurement for progress was introduced as a "subject at the very heart of our future." At the Forum there was a general consensus around the problems with GDP alongside a wide diversity in the many proposed solutions. This diversity was presented and explored as an opportunity for learning and collaboration.
…what comes next?
An impressive range of speakers were present, representing different approaches from around the world.
From Bhutan, we heard from Dasho Karma Ura, President of the Center for Bhutan Studies (CBS), who spoke about how Bhutan's model of Gross National Happiness (GNH) ensures that policy decisions are made on the basis of wellbeing rather than GDP. The multi-faceted approach of GNH ensures that economic development is placed alongside rather than above the environment, culture and governance. This has resulted in some positive outcomes, such as Bhutan being a country that is not only carbon neutral but carbon negative.
From South America, speakers from Ecuador and Bolivia emphasised the importance of the rights of nature, which have been enshrined in the legal constitutions of both these countries. We watched a video message from Jose Alberto "Pepe" Mujica Cordano, the former President of Uruguay famous for his intentionally simple lifestyle. Pepe spoke about the importance of living in line with our values. With mass consumerism and inequality being recognised as increasingly problematic, he said that we could "be thankful for the opportunity to dream" and act to create simpler, more beautiful ways of living together.
The Forum gave space to a wide range of other inspiring frameworks and philosophies, and featured many examples of new indicators being implemented internationally, such as the OECD's Better Life Index. A display shared 17 different local wellbeing / beyond GDP indicator initiatives going on across France, too. What was made abundantly clear is that many people are now not only seeing the weaknesses of GDP, but working towards a plurality of genuine alternatives.
Let's work together
The main take-away from the Forum is that a new way of doing things is not only possible; it's already happening in many different contexts and at many different scales. It's important to work together in these changing times. We can see all around us that business as usual is being questioned, and this creates higher uncertainty but also space for positive new approaches. There is an opportunity to find better ways to manage our societies, measure our societal progress, and prioritise the wellbeing of people and planet above economic growth. Around 800 people come together in Grenoble to support this hopeful vision, and we know there are many more in the UK and around the world who are working to support it too.