The past year has been a big year for the Network of Wellbeing. We held our first big national event, the Building Wellbeing Together weekend at Hawkwood College; we've launched a new website and we've just been given Eden Rise – a haven for wellbeing in the Devon countryside.
We're now looking for at least two new Trustees to oversee our work at this exciting time, and give us crucial advice on wellbeing, on fundraising, on how we communicate and on measuring our impact. If you think that could be you, read on for further details.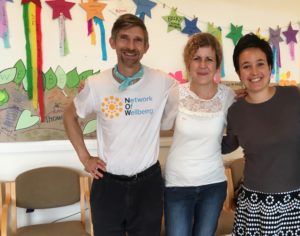 The role of a Trustee
The Network of Wellbeing is a registered charity. We are governed by a Board of Trustees who meet three times yearly. Our trustees are responsible in law for ensuring that our activities deliver our charitable mission. They must make sure that we comply with charitable and other law and with the requirements of the Charity Commission and that our resources are used prudently and with care.
Becoming a Trustee is a great way to further a cause you believe in. You can put your skills, experience and contacts to good use – helping committed professionals to achieve a common goal. There's no limit to the depth of your involvement. We're looking for Trustees who can open doors for us and provide strategic advice on projects that are key to our success.
And it's a great way to wellbeing too. Giving is one of the five ways to wellbeing and giving your time and expertise is equally if not more important than giving money. What's more, it will help you learn and connect too. You'll get invited to NOW events and will have the opportunity to meet the many interesting people in our network – and to hear their experiences.
Support a growing organisation
As we grow as an organisation, we're looking to expand our reach by connecting with far more people. That means offering our network more ways to engage online and offline, through events, social media and more. Meanwhile, we're keen to support more action to improve wellbeing on the ground – and to develop new and innovative projects such as the increasingly popular Share Shed. Ultimately, we aim to help influence the agenda nationally and internationally so that wellbeing is put centre stage in our lives, our communities and in wider public policy too.
All of this requires good communications, rigorous monitoring and first class fundraising.
So if you're passionate about our mission and you've the skills and experience we need, get in touch.  You'll find yourself in good company.
Thank you Stewart and Brigitte!
We'd like to thank the wonderful Brigitte Norland and Stewart Wallis – two Trustees who've retired this year – for all their hard work and support over the last few years.
Brigitte was a Trustee of the Environmental Resources Association before it became the Network of Wellbeing in early 2015. She stayed on to give us the benefit of her warmth and her wisdom and remains a much-valued friend.
Stewart Wallis is a former Chief Executive of the new economics foundation. He joined us in late 2015. He brought vast strategic experience and was generous in introducing us to his many contacts. He moved on to oversee the development of the global Wellbeing Economies Alliance – WeAll – and we retain close links with him.
We're very grateful to both Brigitte and Stewart for all they've done for us and wish them well in the future.
We look forward to hearing from you…
If you are interested in the role of Network of Wellbeing Trustee click here for further details, and feel free to get in touch with any questions. If you would like to find out about other ways to connect with our network, please click here.