The Network of Wellbeing is ten years old, and we'll be celebrating this throughout November across all areas of our work. It's been an amazing journey that couldn't have been achieved without the support of some incredible people, including all of you!
In this post we reflect on ten things that we're proud have been part of our journey over the past ten years. You are also welcome to join us at our Building Wellbeing Together Event Series to mark this occasion.
---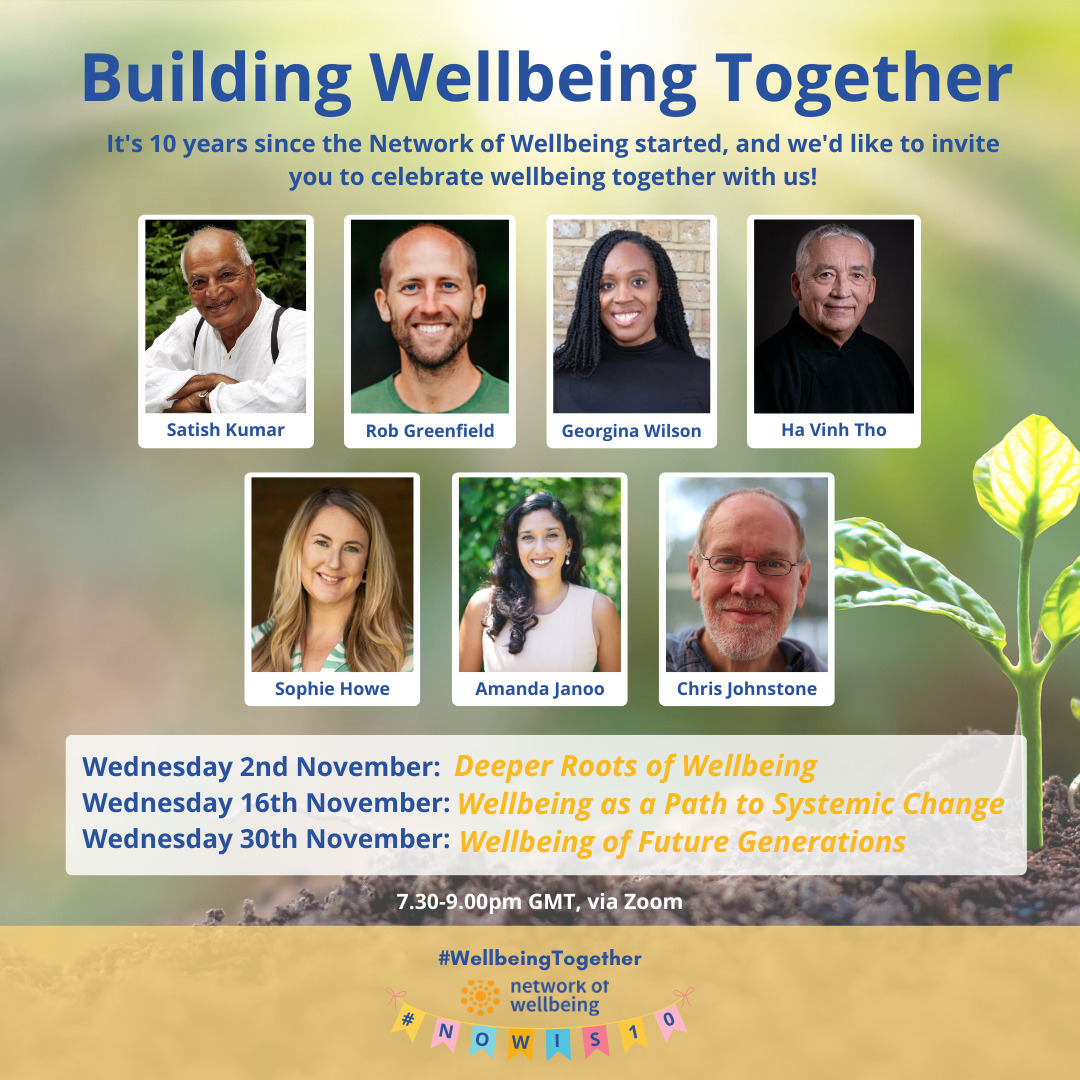 1. Satish Kumar as Patron
"We have to have personal wellbeing connected with the wellbeing of the earth" – Satish's wisdom has featured in many of our events and videos, and we're proud that he is our Patron. 
Satish Kumar co-founded the Network of Wellbeing with Nigel and Margaret Woodward, and has been a constant companion on our journey ever since, first as a Trustee and later as our first Patron. 
Satish will be opening our anniversary event series, which you can sign up to join here.
You can see videos Satish has filmed for us here.
2. The Share Shed – Our Flagship Project

The Share Shed is the world's first travelling library of things, and is a project that we're proud embodies our vision of people and the planet thriving together, enabling people to buy less and share more.
The Share Shed was launched in April 2017 and has gone from strength to strength, now offering over 300 items to people in six locations in South Devon saving its users over £200,000 in purchases they haven't had to make. 
Plus, it helps inspire the wider movement for sharing through events like the ShareFest and videos like this one made by Rob Greenfield, which has been viewed over 1.3 million times. 
Share Shed Project Manager Mirella Ferraz will be sharing this journey at the opening event in our Building Wellbeing Together series, where she'll share our exciting next steps.
3. Eden Rise – A Haven for Wellbeing
We were gifted Eden Rise in 2018 and have been working hard ever since to build its profile as a residential centre for wellbeing retreats.
It sleeps up to 24 people and is now hired out for nearly 200 nights a year. We're now looking to increase the number of our own and our partner's events at this venue. Next Spring, we're organising one of  our own retreats at Eden Rise, in partnership with Resurgence, which will focus on Hope in Action.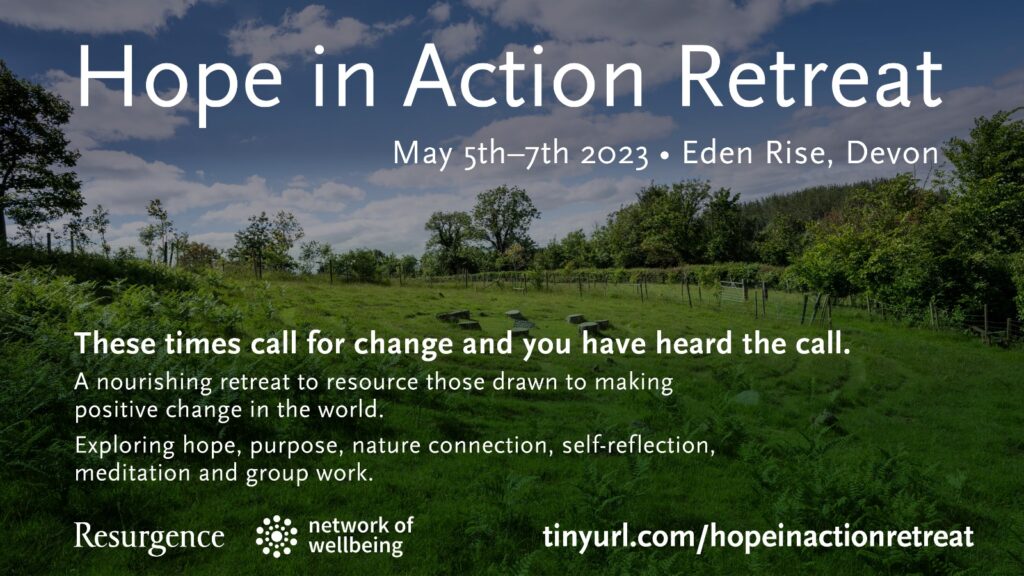 4. Our Online Events
Our online events are shaped to serve our mission – to connect people, support projects and inspire action for the wellbeing of people and the planet. 
We bring people together through our events – connecting them to like-minded peers and inspiring speakers – often in partnership with other organisations such as Resurgence, Eden Project Communities and Hawkwood Centre for Future Thinking.
Starting in January 2018, we're proud to have engaged thousands of people online in learning about wellbeing, how we can all achieve it and how it relates to wider social and environmental issues.  
We'd love you to join us for our online event series to mark our ten year anniversary.
5. Building Wellbeing Together Weekends
We value the ability to connect to so many online, and we also love to come together face-to-face to build long lasting relationships. 
Our Building Wellbeing Together weekends at Hawkwood College in 2017 and 2019, brought many people in the nascent UK wellbeing movement together for the first time. 
They featured keynote speakers such as Liz Ziedler of the Centre for Thriving Places in Bristol, Karen Creaven from the Active Wellbeing Society in Birmingham, Mark Williamson of Action for Happiness, and many more inspiring speakers, as well as practical activities and workshops. 
Set in the beautiful surroundings of Hawkwood College, near Stroud, they laid a fertile ground from which numerous seeds – and friendships – would grow. 
You can watch the video of our first Building Wellbeing Together weekend here.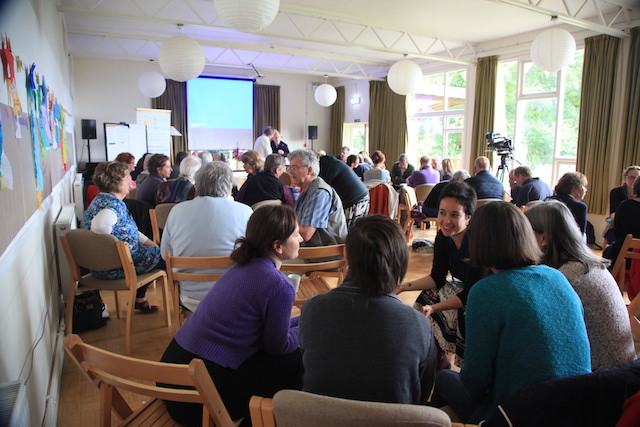 6. Our past projects 
At NOW, we run community projects to demonstrate different ways of living that build wellbeing together for people and the planet. Although some of these projects have now stopped, each enabled us to support many people and wellbeing projects, as well as providing valuable learning experiences.
The monthly Potluck suppers, which we ran from 2013 to 2018, provided an opportunity for people in Totnes to meet at little cost and share a meal.
The Totnes Wellbeing Fund, which ran from 2015 to 2019, explored how small sums of money can enable people to build wellbeing together through community activities.
We are deeply grateful to all those who were involved in supporting these projects!
7. Our Team: Staff, Trustees and Volunteers 
People are the lifeblood of any organisation, and at the Network of Wellbeing we've been blessed with the support and hard-work of lots of numerous committed individuals. 
Our Trustees, staff team and volunteers – past and present – have really given above and beyond to our shared vision for people and the planet thriving together. We are grateful to all those who have given their time and energy to support our work.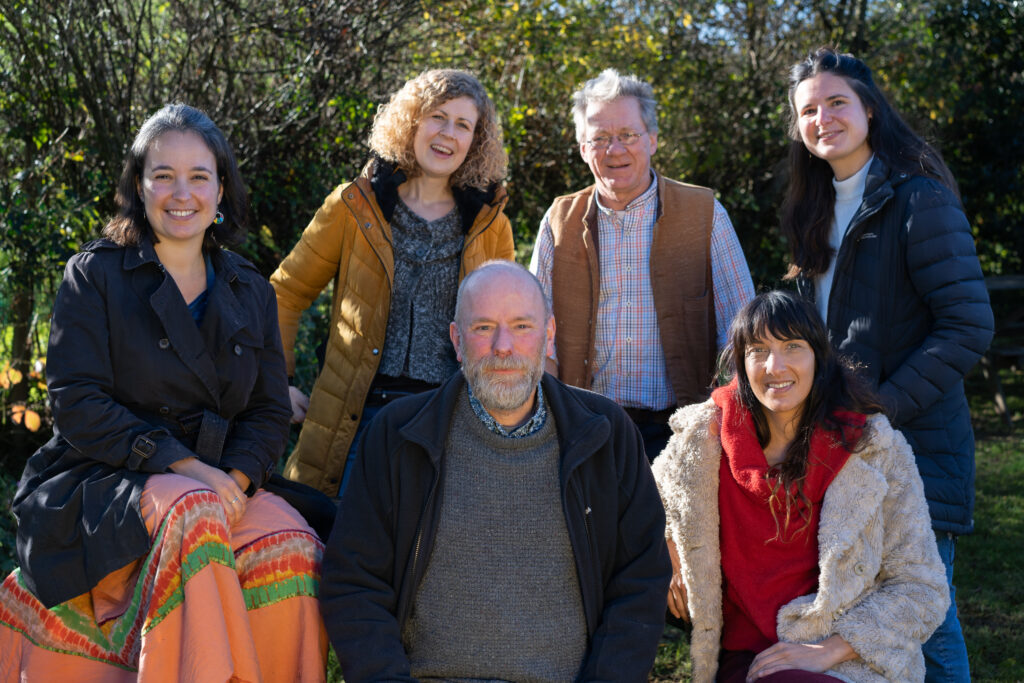 8. Our Network   
We are really grateful for the many organisations, projects and people who connect with us. This includes those who 
partner with us in so many different ways;

are listed on our Directory or who add listings to our Events page; 
join regular discussions on our Building Wellbuilding Facebook group;

speak at or attend our online and face-to-face events;

support of our work locally in Devon, with the Share Shed.
We'd like to thank them all!
9. Our reach
From small beginnings in Totnes, our reach has expanded across the UK and beyond. We now have over 30,000 people in total following us across our social media channels. Meanwhile, our closest followers receive our newsletter or have joined our Building Wellbeing Together group on Facebook. 
If you're not connected to us already on social media, join us today via Twitter, Facebook, LinkedIn, Instagram.
10. Our Vision, Mission, Values
Last but definitely not least are our new Vision, Mission and Values, which we have worked hard to articulate clearly: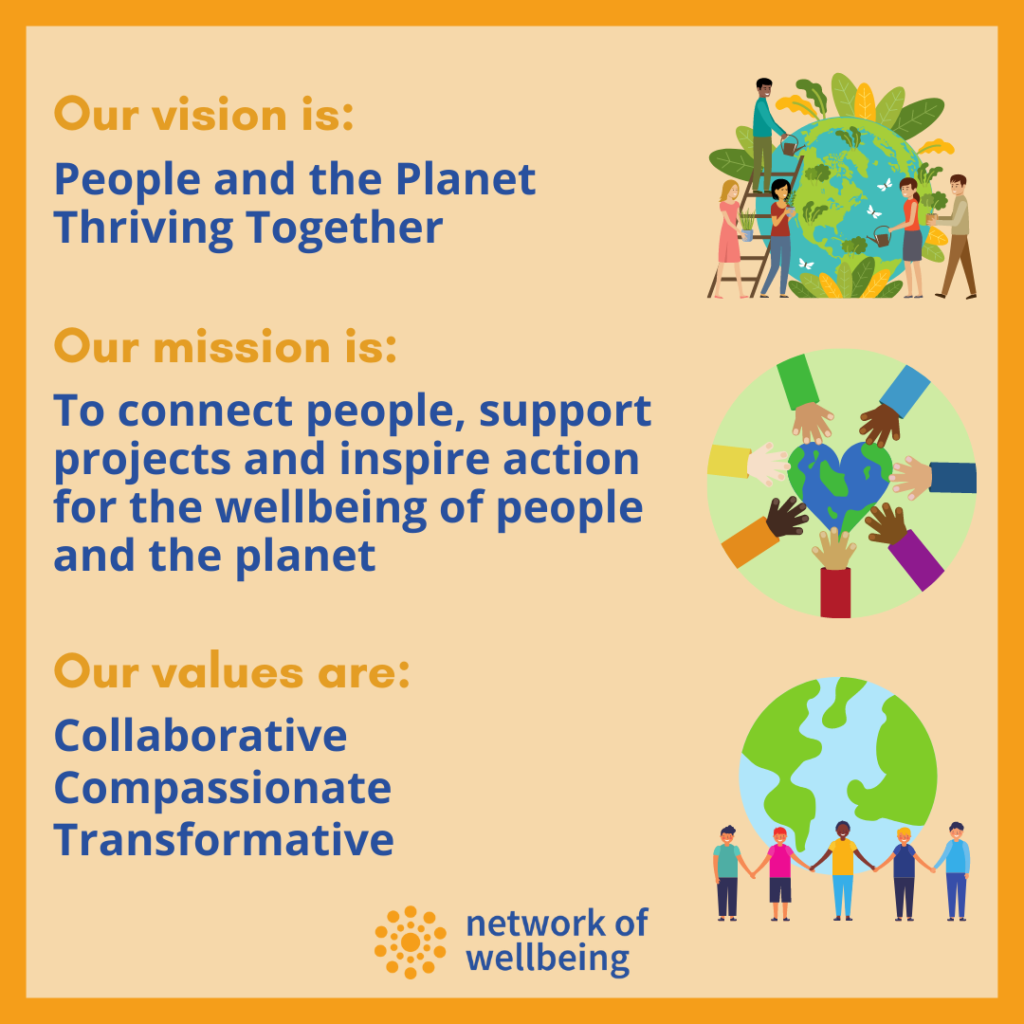 We hope you feel inspired to join us at our upcoming Building Wellbeing Together event series to mark our 10th anniversary! With huge thanks to all those who have been a part of our work in large and small ways over the past ten years.